"For the campaign I chose to feature women I knew and wanted to celebrate because they are confident & beautiful."— Bobbi Brown

For Spring 2010, Bobbi Brown Cosmetics is featuring images of "real women" – friends who have inspired Bobbi with their integrity and passions– instead of models. I was asked by Bobbi to be in the campaign (I almost burst with excitement when she finished a phone conversation with me on another project and said calmly "by the way, I'll see you at the campaign") and flew out last October to participate in what will be one of the most memorable beauty moments in my life. This is a 3 part ad campaign, I was told I'm in part 2… but jump to see behind the scene photos now!

Bobbi is also answering questions LIVE on twitter starting now until 1:30pmEST here!!!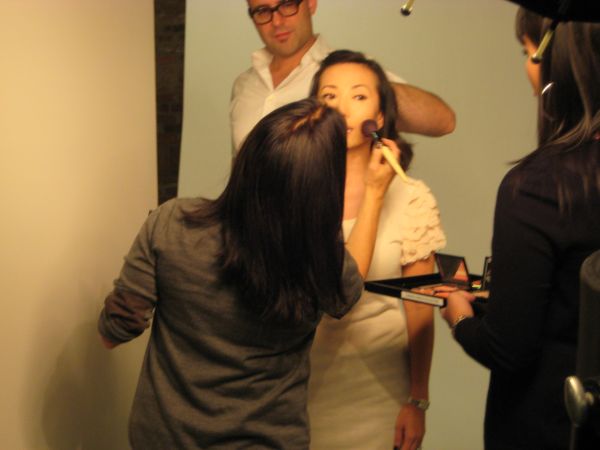 We chose our outfits and accessories in this room. I had to resist the urge of piling on lots of jewels and went with a simple pair of earrings.
Bobbi
likes to pamper her staff and models at her photo shoots. During
the wait for our turn in front of the cameras with Bobbi, we had lots to do including a manicure with Bobbi's personal nail tech. She also also catered a healthy low sodium lunch. Dessert was dozens of yummy cupcakes!
Being at a Bobbi Brown photo shoot is quite an experience– before you actually see Bobbi, you work with several different stylists. First I chose my outfit with the fashion stylist, I went with this Elizabeth and James t-shirt because the pale peachy shade seemed very spring-y to me and the sleeves were fun & flirty! Then a hair stylist and I consulted on hair styles I'd feel prettiest in (Bobbi wanted us to feel confident and let us have a say in the hair, clothes, accessories, etc). Two make up artists (Liz and Marc- love you guys!) from her team also applied the foundation and concealer to prep my face for Bobbi. All finished… ready for Bobbi!
Bobbi first used a pretty coral palette on me (Cabana Corals will be out in Feb!), I really liked the look but she wanted to experiment a bit further on me. Knowing my personality, Bobbi thought a stronger look would better showcase my face.

After studying me for a minute, she decided I can rock a serious smoky eye… I was kind of hesitant,,, smoky eye? Me?!?!? The girl who spent years perfecting the 'no make up make up look' (ironically inspired by Bobbi herself in 1993) with a smoky eye!?!? But I totally trust Bobbi and went with it!

I don't know why I was laughing here but Bobbi has a very dry and witty sense of humor and I'm sure it was about the giant cupcake I shoved down in my mouth before walking on to the set :). She introduced me to the crew as the "Snob" when I walked in, which greatly amused the guys on the set, they wanted to know what bags to buy their girlfriends and had many suggestions for new ventures such as 'Photo snob' 'Cupcake snob' 'Tool Snob', etc. The mood on the set was light and fun even though everyone (especially Bobbi) was exhausted from the three 12 hour day shoots. They kept all of us laughing through the day and most importantly, made each of us feel as if we were the most beautiful woman on the planet!
After using multiple brushes to apply colors to my eyes, Bobbi used her fingers to blend the layers of dramatic smoky shadow. I have tried using my fingers at home but I just make a big mess. I need the help of make up brushes– Bobbi has a set of travel brushes that I keep in my bag at all times. See Bobbi brushes out here.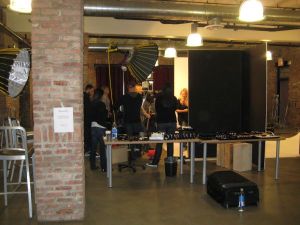 This is a shot of the photo session area. Everyone hovers around Bobbi and the photographer so they assist quickly. The woman on the right was in the campaign as well, she was so beautiful with her silvery hair and kind eyes.
Bobbi checks images on the computer as she's working, to see how it translates in photos. So smart! And here is the final result of my smoky eye look, instantly transformed! I had to rush to the airport right after the photo shoot and she wanted to wipe all the make up off before I left but I did not have time and got on my flight as is. I have to admit I got more than a few stares but I loved my smoky eye look!
I met some amazing women that day. It was such an incredible experience… thanks, Bobbi!