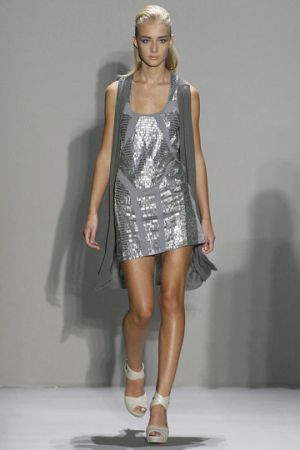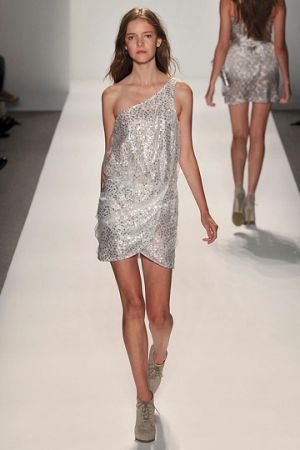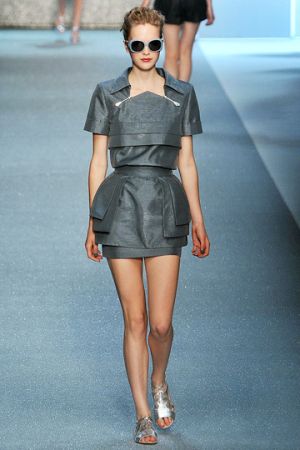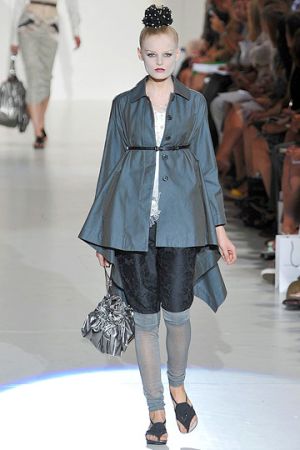 Guest blog by — Julia DiNardo, the founder/editor of Fashion Pulse
Although we can say that holiday is technically over, you can still expect to get a lot of extra mileage out of silver, metallic colors in the coming year. For spring 2010, designers have taken a strong liking to silvery, icey hues, and can you really blame them? The shades exudes cool and should be on your list of top must-haves for spring. Designers working the trend to perfection include Michael Kors, Giles, Chanel, Marc Jacobs, Elie Saab, Karl Lagerfeld, Giorgio Armani, Cynthia Steffe, and Nicole Miller, and you can definitely get the look from head to toe while on a budget. The color works best when you pair it with solid neutrals such as black or cream and solid pastel colors can give it a bit of a modern twist.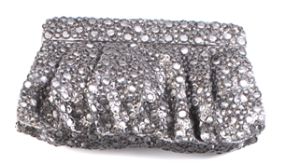 Starting with some accessories to help you seamlessly incorporate the trend into your wardrobe, we like the tiny and adorable Sequin Bow Tie Clips ($2.99, Charlotte Russe) coupled with this amazing Alyssa Sequin Clutch
($99 Club Monaco), which is sure to be the centerpiece of your look and
a definite eye-catching, compliment-grabbing accessory you'll be sure
to bring out with you time and time again. Heading south, add a dollop
of silver sparkle via the Skinny Glitter Belt ($4.80, Forever 21) or the liquid smooth Metal Tip Plaque Belt
($16.99, The Limited). If you're ready to become a silver sensation via
your garments, we've got a dizzying array of affortable items for you
to choose from!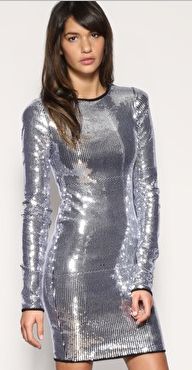 Starting with the jacket, we can't get enough of the Zinc Boyfriend Blazer($23.90, Nordstrom) and the A Stud-y in Chic Blazer, ($54.99, ModCloth), which both possess more muted silver color tones perfect for daytime. The Ruched Sleeve Blazer in silver ($125, Topshop) and the Pilar Jacket
($325, Calypso) prove that your ready to make more of a serious
commitment to silver for 2010. Next, we know you've been waiting to
hear our silver dress suggestions, which offers great variety at a
price point of $200 and under. The A.B.S. Silver Chiffon Satin Detail Strapless Dress ($199, Bluefly.com) is perfect as formal evening attire, while you can turn up the high voltage shine factor with the 5.16 Sequin Dress ($179, ASOS), the Michael Michael Kors Metallic Jacquard Dress ($126, Michael Kors), the KAS Designs Sequined Silver Dress ($139, eDressMe.com), or theAqua Sequined Tank Dress, ($94, Bloomingdales. Prefer a little silver on your feet instead? Step into the Michael Antonio Laddie Pump ($49.95, Endless.com), ($198, also Endless.com), or the Satin Bow Pump ($24.50, Wet Seal).
Silver is most certainly staying in style for 2010, which means
there's no better time than now to add some cool silver shine to your
look!
—
Julia DiNardo
is the founder/editor of
Fashion Pulse
— visit the site for daily updates on trends, runway collections, industry buzz, beauty, and more.