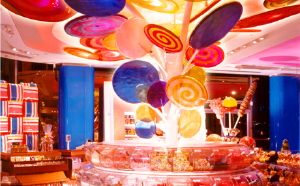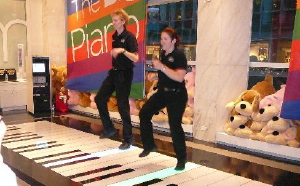 Day 2
Dylan's Candy Bar, Giant Piano in FAO Shwarz
I decided to spend the money on a car service so that we can get more done and have car seats. It was totally worth it!! The day was relaxing and we had the BEST time ever. No logistical nightmares to speak of. It allowed us to hit every place we wanted to go so to rationalize the expense I figured it would be cheaper than having to come back for a return trip. We even stopped by a street vendor for gyros and ate them in the car instead of having to stand on the street. Were were able to hop in and out and go anywhere we wanted without the headache of having to find parking (if we got your own car, which I would not recommend), getting in and out of cabs (no car seats), schlepping the entire gang through the subway, getting lost, walking endlessly, getting tired and cranky, carrying all the packages we acquired along the way and most of all, wasting time in transit. As you can see, Day 2 was A LOT more productive than Day 1 =)
FAO Shwarz – 767 5th Avenue, New York – (212) 644-9400
This is a must for tots. It's the biggest toy store in the world, and nicest!! They are known for their life size stuffed animals but they have it all. The Giant Piano (seen in the movie Big) is pretty much the most fun you can have. Don't miss the show, check for times because you do not want to miss that.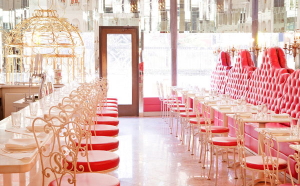 Sweetie Pie
American Girl Place – 609 5th Avenue (877) 247-5223
If you don't know about American Girl, you probably don't have a girl. This is an entire building devoted to the American Girl dolls and the care and maintenance of them, including a hair salon and hospital. There is a cafe where your real girl can have lunch with her American girl, but I would probably skip that – it is $38 per person and the food is terrible (except for their flower pot chocolate pudding which is adorable). The hair salon sounds a bit nuts but it's $10 and the matted doll hair can return to its original luster while you girl soaks in the experience with glee. Super long wait on weekends so beware.
Dylan's Candy Bar on 3rd Ave at 60th St.
This isn't just a candy store, it is a candy museum (except you can eat everything). There are 3 floors of sweetness – the bottom floor has nostalgic candy from when you were a tiny tot. There are things you cannot even conceive of. Just make sure you set limits before you step foot in there.
Serendipity 3 – 225 East 60th Street, New York – (212) 838-3531
Right around the corner from Dylan's Candy Bar is the famous Serendipity (seen in "You've Got Mail") for their frozen hot chocolate. Sounds like chocolate milk you say? No, this has the richness of hot chocolate but it is frozen. The wait is long though but go during lunch or dinner hours because nobody goes there for meals (and you shouldn't either, have an early lunch and head straight over before 1pm).
Scholastic Book Store in Soho – 557 Broadway, New York – (212) 343-6166
This requires you to trek all the way downtown but again, it is a must. The store is on the first floor of the Scholastic Books offices. There is a life size "Magic School Bus" where you can sit and read. I don't have to tell you the selection is extensive. They do focus on their own titles but they are like Clifford the Big Red Dog and other favorites like the Pinkalicious series and Fancy Nancy. The beginning readers section is amazing.
Sweetie Pie – 19 Greenwich Avenue (212) 337-3333
Since you are downtown and if you aren't already overdosing on sugar, Sweetie Pie is another super cute place you should check out. They have good meals (their tomato bisque is crazy good) so you can opt to have a real meal instead of just dessert. But having said that, they have this personal cake which is a miniature 2 tier wedding cake. The front of the restaurant has a bird cage that you can actually reserve, so I would recommend calling days in advance to make sure you get that table! This is where I had brunch with Sarah Jessica Parker for her SJP NYC fragrance.