Whether or not this bag is for you, we should all be excited for the return of glam!! Feather and sequins!! What can be more decadent? Well, it's not like Valentino ever turned sensible but I cannot wait to see what they have in store for us once they pull out all the stops!! You cannot get a sense of the intricacy and details until close inspection but once you do you begin to appreciate the couture luxury and feel. Sure this is super fancy and a bit much for everyday but as a show piece you have to admit, it is pretty fabulous. At Bergdorf Goodman for $4,990.
If this is over the top for you, the Glam tote has the same idea with less embellishments. Go to jump page for photo and info.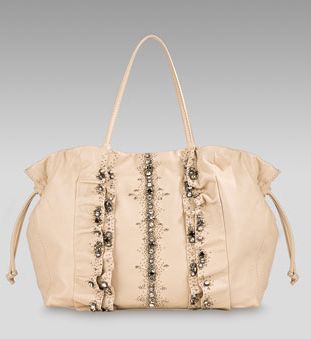 Valentino Glam Tote with subtle ruffle and pick stitched detail for $2690.