Unlike NYFW, Milan Fashion Week (or weekend) has its own very languid pace despite the hectic schedule of 88 shows in 96 hours. We arrived at the Bottega Veneta Fall 2010 show Saturday morning on time, expecting a mad house. Instead, guests mingled in the Bottega café sipping espresso and noshing on breakfast pastries. This being our first time at the Milan shows we headed to our seats after a few minutes of socializing (seated behind Glenda Bailey of Bazaar and across from my favorite Editrix Carine Roitfeld!). The first bag to stroll down the runway was a killer Flannel tie-dye crocodile bag called the "Tiina" (below– is it wishful thinking that I inspired the bag!?). Now this is unlike any treatment I've seen on crocodile skin– the color degradation is subtle and gives it a distressed appearance.
In fact, we'd never seen so many bags on the runway before–there was an ink iridescent calf cross body bag that Kelly fell off her seat for and a nappa clutch with beetle (below– the inspiration for Bottega's Fall 2010 collection) that we both 'oooed' and 'ahhhhed' over. There were 42 looks in the collection, with almost as many bags!
We were invited to the Bottega Veneta showroom the following day to see the collection up close and personal and I must say this was the absolute highlight of our trip! The bags were amazing on the runway but to truly appreciate them, one must see them and feel them (in my case– to carry one for the entire hour of our visit!). To say Mr. Maier is a visionary would be an understatement. He is innovative and ahead of his time, not only in design but in the materials he used in the collection. The "Papier" cross body bag is exactly as it sounds– made of paper and light as air– it could revolutionize the bag industry! Now this is not like the bag you made out of paper in 3rd grade, it is expertly woven in strips with python piping in the iconic Bottega weave. I have never seen anything like it in my life! The "Papier" clutch with beetle closure (below) is another must have (by that I mean call your local Bottega boutique NOW (Or call Katherine at 310-858-6533 in LA, Tatiana 214-265-0136 in Dallas) to get on the list, it will sell out for sure!). The beetle turns like a space age lock which opens the flap of the clutch, if you must know, I am ordering the antique silver version!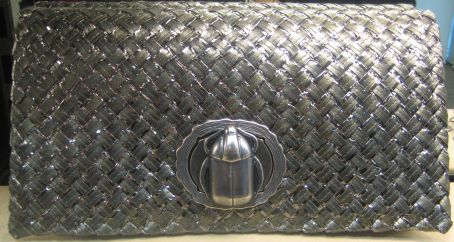 It's all about cross body bags at Bottega Veneta this season (interesting that I've been buying cross body bags the last few months, too– I am so in sync with Tomas Maier!); from large sporty hunting bags to small evening purses, a body strap is a must! The supersized version (below) with woven leather pocket will be one of the most coveted bags of the season. It's hard to find a feminine yet functional cross body bag without looking like an actual messenger/delivery boy–this one has soft pleating, a rounded shape and unmistakable touches of Bottega Veneta. Dreamy!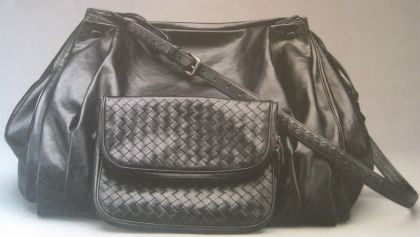 If you're on the petite side like me, there are many options including a 3 pocket tote (below) that is perfect for our stature– I'm obsessed with this bag! A simple bucket tote with multiple outer pockets, you'll never have to dig in your bag for keys again! I just wish the large pocket (below left) was detachable so I can use it as a clutch at night, I suggested it at the showroom and hope they were taking notes 🙂 And seriously, only Bottega Veneta can make iridescent green look classy!
The two bags below are perfect for the less adventurous who want a timeless Bottega bag with an updated feel. The cross body flap bag has the weave along bottom and trim, simple but oh so chic! And you cannot go wrong with a shoulder bag with woven lizard straps! These are the bags that will carry through your daily life. And note the cool belts with small beetle detail– all coming to a Bottega boutique near you soon!
Two other fabulous cross body bags of the collection: a triple layered cross body bag (below left) is made of chalk snakeskin is woven in a pattern that resembles the actual snake and trimmed in velvet fringe. The interior opens to three separate compartments as well. The green cross body bag (below right) is made of paper and trimmed in python with python strap. I love how light all the bags are! After a week walking the streets of Milan with my son and my heavy Givenchy messenger bag I'm ready for the lightness of the "Papier" messenger!
Of course no Bottega collection is complete without the "Cabat"(below)–this season it is updated in the iridescent color treatment inspired by the colors of a beetle. Depending on where you stand, it turns from green to purple. It is spectacular to see in person! You must attend the trunk shows as they arrive in your city–you will be in for THE bag treat of your life! In the coming months we will have more details on Bottega Veneta Fall 2010 bags.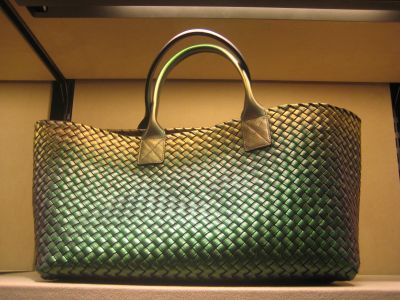 We'd like to thank our friends at Bottega Veneta for inviting us to Milan for the Fall 2010 show and hosting us at the showroom. We felt at home immediately and wanted to run away with not only the bags but the gorgeous ready to wear and insanely fabulous shoes, too! Click to Couture Snob to read our review!