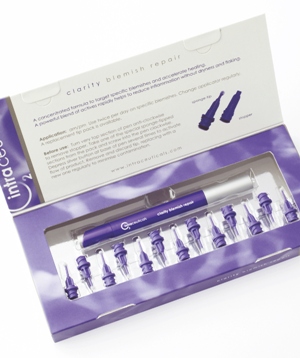 I get oxygen treatment facials from Intraceuticals whenever I can– at least once a month and weekly if I have time (hey, don't judge– Madonna gets them DAILY!). The oxygen infused Serum contains lightweight Hyaluronic Acid and a powerful combination of vitamins and antioxidants that penetrates the deepest layers of the skin, making my skin tone bright and texture refined. They recommend a series of 6 weekly facials and then monthly maintenance but since I am so flaky, I've never done the entire series so I'm on the perpetual program which is fine by me cuz I love the way my skin looks afterwards!
Last week, I tried the newest treatment from Intraceuticals– CLARITY, which addresses adult acne. It's not a huge problem for me but every so often I do get a blemish that drives me nuts! I mean how annoying to go through puberty without the body of a 16 year old! Seriously though, I end up picking at the blemish or squeezing it too early which leads to– you guessed it, scarring! For those with a severe acne problem, there is a Clarity infused oxygen treatment but I only need the Clarity pen for my occasional break outs. It's a genius product– a disposable unique applicator pen containing a concentrated formula to target acne blemishes and speed up the healing process while reducing redness. The applicator tip is designed to be replaced daily to avoid contamination and bacteria. It comes with 15 tips and you can purchase replacements as necessary.
Use as required or twice daily onto blemishes and watch them disappear without a trace! I know this sounds crazy but I can't wait for my next adult pimple so I can zap it with this pen!
I get my Intraceuticals treatments and products at Ritz Carlton Spa in Dallas (214) 922-4820
If you don't live in Dallas– go on their website to find a location near you. Intraceutical oxygen infusion treatment is a MUST in your beauty regimen!