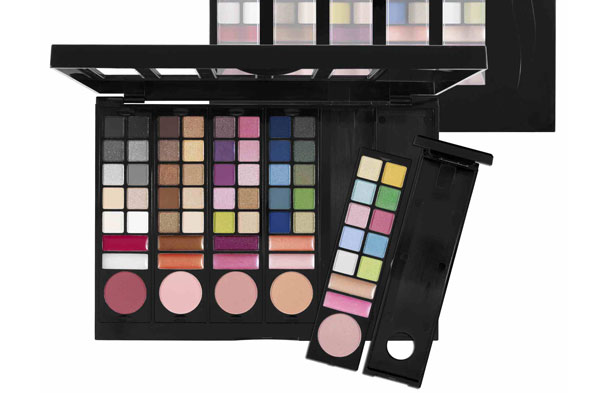 The day after the end of New York Fashion Week I made my way back to Bryant Park for an event that Sephora hosted to unveil their S/S 2010 collection. A number of goodies were revealed, but see below for the most exciting! All items will be launching nationwide at Sephoras in May.
Color Play 5-in-1 (pictured above)
Hard to believe but this limited edition palette is only $29.50! It includes five smaller color palettes each of which can be popped-out and plopped into the travel case shown on the right. The set comes with 50 eye shadows, 10 lip color, and five blushes.
Sephora by OPI Havana Nights
New nail colors for the season will be —
Rumba Romance – brilliant golden bronze
Teal We Meet Again – dramatic blue-green
Havana Dreams – sunny sky blue
Read My Palm – lush, tropical green
Caliente Coral – bright coral
Carribean Cocktail – shimmering sea blue
Each of the shades ($9 each), are high on vibrancy and shine. I have a feeling the golden bronze will be one of the "it" shades of the summer!
I.T. Makeup Brush Collection
I love that Sephora turned to an architect (Philippe Di Meo), to design their latest brush collection (highest quality to date, $14-$40). Not only are they super chic because of their metallic color-coded finish (fuchsia for the face, violet for the eyes, and blue for the brows), but caps were created for each brush to protect the bristles and to help keep the brushes clean (the brushes I use now are from Prescriptives and to avoid getting them dirty I have to store them in Ziploc bags!).

EDUN for Sephora
EDUN is an apparel brand that aims to raise awareness of the possibilities in Africa to encourage emulation. To help achieve this goal, EDUN and Sephora created two palettes ($36) with proceeds going to the Wildlife Conservation Society, a global charity that supports the Conservation Cotton Initiation program (which helps African farmers develop organic cotton in a way that supports community, trade, its development and biodiversity). The palette comes in two shade combinations (each with six shadows and two blush shades): White (warm neutrals) and Black (cool brights), and each comes housed in a natural wood case along with an organic cotton drawstring pouch.