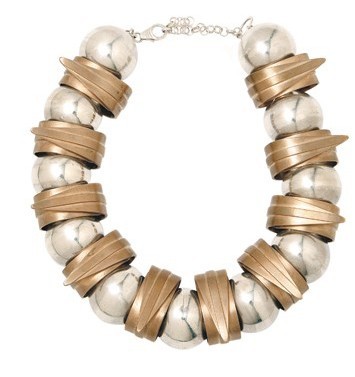 I just discovered DAMA, named for the queen in the Greek deck of cards, while shopping at Henri Bendel where the line was discreetly displayed on their second floor. It's designed by Heather Keller who credits Greece and New York City for influencing her work (the piece above is called Helios Choker and she seems best known for her borough ring and gear motif "meant to reflect New York's machine-age modernism and Greek classicism").
As the former editor of Rizzoli and Gloss.com, Keller learned a great deal about accessorizing over the years and when she decided to leave the editorial world for jewelry design she opted to enroll in goldsmithing classes at the School of Visual Arts in New York City. The expertise she acquired have translated into a 70-piece collection which she debuted less than a year ago (I wish there was more on her site since Bendel's just had a limited selection 🙁 See here for more stores). The collection includes gold, silver and brass statement cuffs and necklaces which retail from about $400 to about $15,000.
Maybe it's only because she's Greek, but I'm totally thinking Keller needs to team-up with Sophia Kokosalaki somehow…the necklace above looks like it was destined to complement one of Kokosalaki's draped dresses!