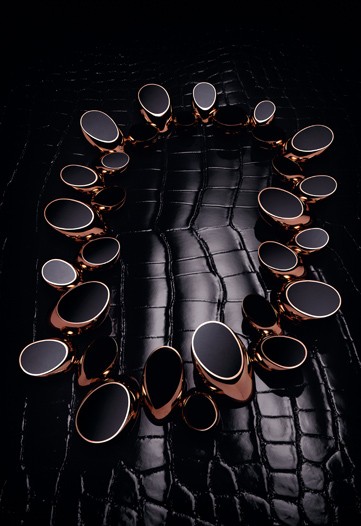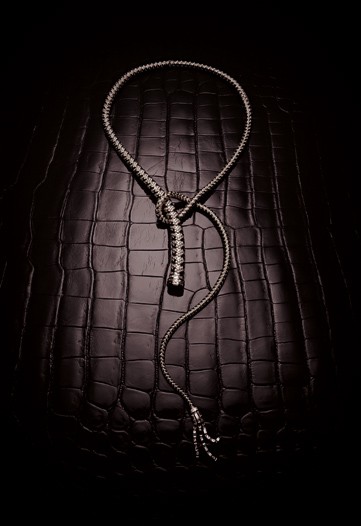 Pierre Hardy truly can do no wrong. The affable Frenchman, who's long been responsible for shoe design at Hermès, has extended his creative say at the luxe French brand, designing the label's first high jewelry collection. Dubbed "haute bijouterie," Hermès, which has until now been known for its silver jewelry, spent the last two years creating an aesthetically gorgeous capsule collection inspired by its equestrian heritage.
Take the Centaure collection, for example. Have you seen design inspired by horse's hoofs result in anything chicer? I think not. I love that a full suite of complementary pieces was designed for this particular collection as it's sure to be well received when it launches this fall as part of a world tour the pieces will go on (Tokyo in September, Hong Kong in October and Berlin in November). The bracelet, necklace, earrings and rings all focus on bold shapes–hence the hoof–and less on precious stones. They're cast in rose gold with a black jade or orange aventurine stone ringed with brilliant cut diamonds or entire paved with diamonds. I just absolutely love the Centaure necklace for evening and the ring for day!
Meanwhile, have you seen the Fouet necklace? Talk about slender elegance! A diamond necklace designed to mimic the lines of a whip, it's made of platinum and set with 3,669 diamonds, totaling 36.16 carats. The collection is priced from $23,675 for clip-on rose gold and black jade earrings to $880,000 for the diamond necklace. It'll take about five to seven months for the pieces to be made and delivered–clients can customize their pieces as they wish. Perhaps the best part? The pieces will come in custom-made boxes made of black alligator leather.