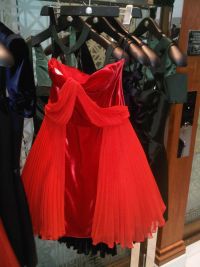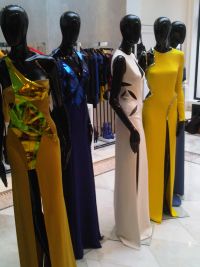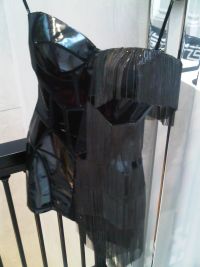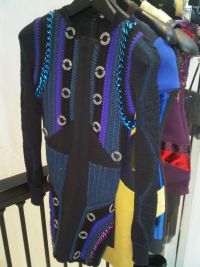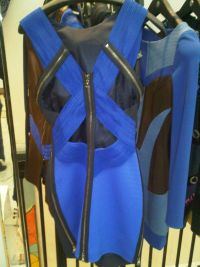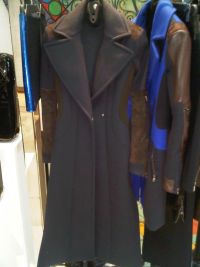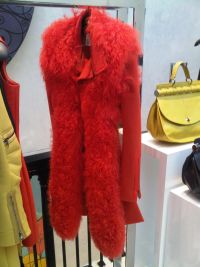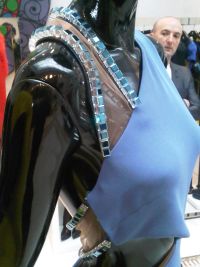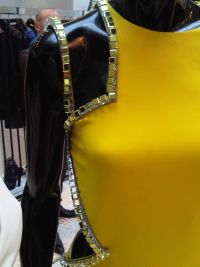 This past February, when Donatella Versace's models came charging down her Milan runway, it was hard enough to keep count of the looks–let alone appreciate the details of her exquisite craftsmanship. Fast forward to Tuesday, when I braved the Manhattan monsoon to get an up-close re-see at the fall collection, which had been shipped to New York for 24 hours for editors.
Anyone who's familiar with the Versace brand knows that it's always been about the power woman–more often than not in bright colors, second-skin garments (those dresses!) that leave little to the imagination. For fall, however, Versace took a dramatic turn in the direction of "Matrix" meets motocross. It was a complete 180 from spring's surreal girl, but the garments, upon closer inspection, really showed a modernized take of the heyday Versace. Yes, the female form was still on full display, but this time Versace went beyond the legs to expose hip bones, tailbones, shoulders and bare backs. The reflective, foil-like material in bright hues that was fashioned into miniskirts and which adorned the gowns were lightweight and quite malleable. Over at Versus, there was a darling red babydoll dress done up in a delicious combination of velvet and chiffon that will undoubtedly be a big hit this fall.
Much of the collection still molded to the body, but, as was the case with a gorgeous knee-length tailored coat with extensive suede patchwork, it was also ladylike and elegant. The dresses and a few of the coats were unapologetically short and characteristically hourglass-shaped, but they had a scuba-like quality to them both in composition and cut–more like sliced and diced. This was more than a typical train of chiffon pieces cut into every sort of garment imaginable; rather, Versace exploration of textures delivered a solid message that infused a tactile purpose.