The summer sun may feel very warm and relaxing but its ultra violet rays are anything but soothing to the hair and scalp. Their effects are actually very damaging to hair and scalp as they actually break down and degrade hair fabric and give it a sun burn just like the sun does the skin. Ultra Violet Rays actually breakdown the outer and then inner layers of the hair fabric creating damaged sites similar to potholes. These potholes leave hair weak, brittle, dull and dry. Hair fabric feels rough and hair color to fades quickly.
Although the focus is on the beauty of our hair, we also need to protect our scalps from the damaging UV rays of the sun. Keeping our scalps healthy is critical to having healthy hair as well as preventing other more serious issues such as Melanoma. Many hair products contain UV absorbers, but these may not be sunscreens. Sunscreens are FDA regulated UV absorbers that specifically protect the skin and are based on SPF numbers that rate a product's ability to protect the skin from UV damage. The SPF protection system covers both UV-A and UV-B portion of the Ultra Violet Spectrum of light and while UV-B protects us against sunburn, it is UV-A protection that guards against skin damage and worse, skin cancers of all types including Melanoma.
To prevent this type of damage, look for a combination SPF sun block and groom. Bring this type of product and a wide toothed comb to the beach or pool. Apply product to hair and scalp after coming out of the water and run the wide tooth comb thru your hair. Gently push into waves or braid into the latest rage, a fish-tail braid. Let air dry. Make sure your hair product specifically has an SPF and is light-weight, grease-free, leaves behind weightless moisturizes and detangles to remedy all of the unruly hair issues at the pool or beach.
But sexy beach hair is totally in style this summer, so instead get that beach hair look
and nourish and condition hair at the same time. Use a volumzing and texturizing
product that conditions hair too. Look for one that contains good for your hair
ingredients like moisturizing Organic Shea Butter, Fig and Olive Oil plus powerful
antioxidants Organic Reishi Mushroom, Wolfberry, Milk Thistle, Ku Shen, Dong Quai
and Fo-ti that help protect hair by wading off free radical pollutants that damage hair
and scalp.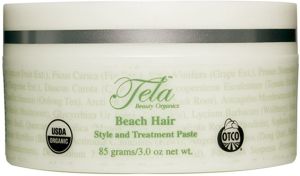 Long hot summer days can leave your hair and scalp feeling and smelling not so fresh. Also hair fabric sometimes needs to take different shapes throughout the day. Starting with down and flowing in the morning to up into a neat ponytail or twist by night. Be versatile and stay refreshed by using a multi-task spray that helps your quickly reshape your hair and refresh your style. Keep a few hair bands and bobbi pins in your bag for quick change. Pop into the lady's room and simply scrunch into sexy waves or twist into a loose bun or ponytail.