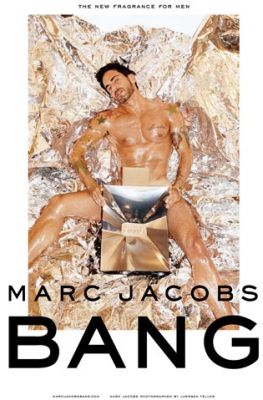 I am officially counting down the days until July 30 arrives. The reason? Bang, Marc Jacobs' highly-anticipated men's fragrance–his first new men's scent in a decade–bows at Marc Jacobs store and Bloomingdale's. To promote the scent, Jacobs thought to pose himself naked for the ad campaign, shot by Juergen Teller. What do you think of the shot? He's lying on a silver Mylar bed with only an oversize bottle of the fragrance for modesty's sake. For those markets that are slightly more conservative, there's also a version that will run in Peoria, Ill. (Jacobs cropped at the shoulders and holding the scent near his face) and a version suitable for the Middle East (just the bottle).
As for the scent, a fragrance review will soon come. For now, I can tell you it's meant to be spicy, with notes like pepper. Developed at Givaudan in collaboration with Ann Gottlieb, it has top notes of black, pink and white peppercorns, a heart of primal masculine woods and a drydown of hypnotic elemi resinoid, aromatic benzoin, vetiver, white moss and patchouli.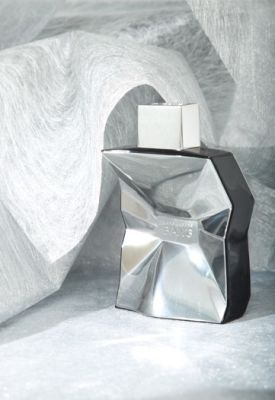 How chic is the bottle? The silver-toned shape is meant to look as if it's crumpled–like it had taken a bullet to its center, according to Jacobs.