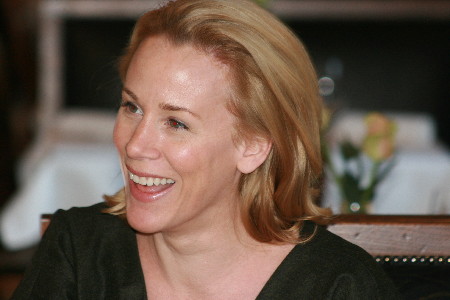 You all know my new beauty obsession is Omorovicza Skincare and I just had to get to know the visionary, Margaret de Heinrich, behind the brand. Inspired by the curative properties of Hungary's thermal waters, Omorovicza is a labor of love created by Margaret and her husband, Stephen de Heinrich. Relaxing at Budapest's ancient thermal baths, the couple was amazed by the effect the mineral-rich, healing waters had on their skin. Margaret and Stephen saw their potential to be harnessed in a remarkable skincare range and thus, Omorovicza was born. I discovered the brand at Neiman Marcus last summer and the first product I tried was the Rose Lifting Serum, it did wonders for lifting and tightening my face! If you have never tried any of the products, now is the time to do so– they are offering Beauty Snob readers a 15% discount! Go to the Omorovicza website here and use beautysnob_9384 at check out!
If you don't know what to product get, the Rejuvenating Night Cream is AHHHMAZING! Read on for our Q & A with Margaret!
Q: What is your ideal day?
A: to get breakfast in bed prepared by Stephen, Gabrielle and Octavia. Pancakes would be ideal!
Q: What is your most cherished Mommy moment?
A: when I get home in the evening and they run up and give me a big hug. It makes my day.
Q: How do you balance work and family life?
A: I cannot say that I am great at this….I try to appreciate our time together as much as possible, and really try to make it quality time.
Q: Mornings are tough for moms. Do you have any tips or
advice on how to look put together with no time to spare?
A: for me, it is easiest when I have a regime including cleanser,
moisturiser and eye cream as a minimum…I do not want to stand in front
of my sink and have to guess what to do.
Q: Do you have efficient and tantrum free travel ideas?
Special gadgets, toys or treats?
A: I have found tic-taks work a treat (the orange flavor in particular)
Q: How do you pamper yourself after a long week?
A: I love to have a bit of time for myself…either a treatment at the spa or even sitting down and reading the newspaper uninterrupted is pretty dreamy.
Q: What do you think is important to teach your children?
A: I think the best thing one can instill in children is confidence in themselves. It instills a sense of self-possesion that can help them develop good judgment which is key in dealing with all things great and small. I am not sure I will be great at doing this but I am certainly trying!
Q What is the most important lesson you learned from your own mother?
A: My mother was fantastic at encouraging us to beat to our own drum…Now that I have children I see that this is not easy as one has a 'vision' of how they would like their children's life to play out….my mother saw what we were good at (typically if you are naturally good at something, you enjoy it too) and encouraged us to embrace it…even if it was not what she would have chosen…I think I was good at just a few things but she told me to focus on it and forget about the rest….