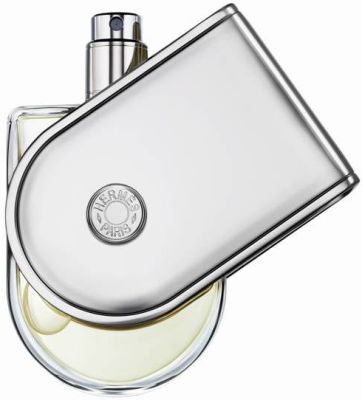 Because it's never too early to start looking for that Father's Day present, may I suggest the new Voyage d'Hermès unisex fragrance. Sure, just like you, I love my Terre de Hermès (I spritz it with a passion)–but sometimes it's nice to jazz it up for the summer. Voyage d'Hermès is lively and reassuring, new and familiar. For summer outings, I love the soft undertones of the woody fresh, musky scent.
There's a reason Hermès's scents are perennial best-sellers; Voyage d'Hermès
was created by its exclusive perfumer, Jean-Claude Ellena, who hoped to develop a perfume that would take people to another place–a scent that would represent the most beautiful of all journeys. His desire was that people would smell the perfume and not say "It reminds me…" but "It's calling to me."
While the scent is unique and intoxicating, the vessel it's packaged in is perhaps the most innovative one to be found. Phillipe Mouquet was inspired to create the retractable glass bottle while out for a walk during a bright starry night. Mouquet's flashlight lit something on the ground that someone had lost: an extra flat pocket-sized magnifying glass that retracted into a case. Like the magnifying glass, the bottle for Voyage d'Hermès opens out at the touch of a finger, like pushing a door. It was designed to turn on itself without going around. Its material and color is aluminum while its contours are those of a stirrup–a salute to Hermès's roots as a harness and saddle-making workshop. Its axis resembles a saddle tack. Not meant to be thrown away, the bottle can be refilled. A shower gel is also available.
$90 for 1.2 oz, $125 for 3.3 oz, available at www.hermes.com, Hermès boutiques and select department stores