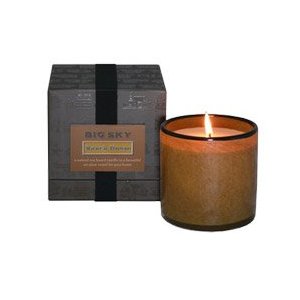 I almost always have candles burning in my apartment – hence almost every table, unfortunately, having wax stains! Candles really set the mood in a room and a scent that works in your bathroom is probably not going to work for your kitchen or your bedroom. To take the guesswork out for us, Lafco New York has come out with a really cool candle collection that's organized by room. For example, the dining room candle has a subtle scent with a clean, green vegetable note so it doesn't overwhelm while dining. There are 17 candles in the collection and each come in a hand blown glass whose color is specifically chosen to fit that particular room. Each of the candles are over-sized and have a 90-hour burn time. You can shop the complete collection here.
Taking their cue from the enormous success of LAFCO's House & Home Candle Collection, Vincent LaRouche, Creative Director and Jon Bresler, scent expert and owner of LAFCO NEW YORK, then turned their creative talents to another idea: the perfect scent to evoke each specific type of house. Aptly called Dream Homes Candle Collection, each scent is the essence of a distinct type of house. Using the same beautiful hand blown vessels with the added detail of a second color glass rim and layered fragrance blends, this collection appeals to a slightly more sophisticated customer. This season's new fragrances are: Fog and Mist, Big Sky, and Garden Greens.
Each candle retails for $55. Jump for a list of scents!

* Living Room – Fresh Cut Gardenia
* Dining Room – Celery Thyme
* Den – Redwood
* Master Bedroom -Chamomile Lavender
* Kitchen – Cilantro Orange
* Bathroom – Marine
* Family Room – Cortland Apple
* Boudoir – Myrrh Cassis
* Foyer – Amber Black Vanilla
* Laundry room – Grass
* Powder Room – Duchess Peony
* Media Room – Spike Lavender
* Guest Room – Daffodil
* Office – Rosemary Eucalyptus
* Patio – Geranium Mint
* Music Room – The au Citron
* Breakfast Room – Citrus Berry