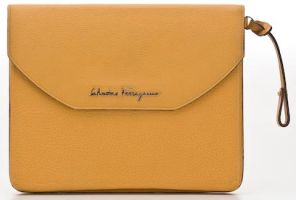 It really was just a matter of time before fashion's premier luxury brands all roll out iPad cases to keep up with the Joneses. Salvatore Ferragamo is the latest to announce the launch of an iPad case, and while it is among the first brands in the luxury sector to do so, what separates this case from others is that Ferragamo's version–because it has a cover and leather strap as opposed to a simple slide-in–can actually double as a clutch or European-style man bag. "Ferragamo has always been dedicated to offering sophisticated, quality leather accessories that provide for all lifestyle needs," says James Ferragamo, director of women's leather goods and handbags. "Technology and design are constantly evolving and we are proud to be at the forefront of this advancement."
Available in black, mandarin and moss green, the exterior options include calfskin leather or beige canvas with brown leather trim. And because utility is of utmost importance, both the shell and touchscreen are completely protected by the structured case. The magnet closure is covered by a piece of metal that acts as protection to the magnetic force with additional safeguard offered by interior Alcantara lining that prevents scratches in this luxurious, comfortable space. The Ferragamo logo, meanwhile, subtly adorns the sleek case exterior in golden brass.
$290 to $390, available exclusively at Ferragamo boutiques.