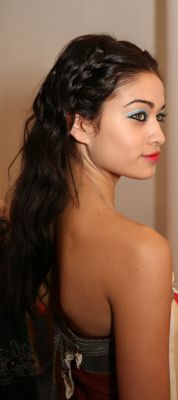 Guest Blog by Philip Pelusi
Kick off your Birkenstocks and say goodbye to granola! Today going green also means going gorgeous. Green ingredients or organics have become a big part of every facet of our lives including beauty products. In years past, organic products had been associated with individuals that were considered to be minimalists when it comes to makeup, hair styles and fashion. This stigma has completely changed to where now even the most high-maintenance fashionistas are purchasing organic products. They want the benefits of their safer and organically grown ingredients and safer preservative systems. But not all organic products are the same. (Jump for more!)

Just because a label reads "organic" or has the USDA organic seal, doesn't guarantee the performance today's green style conscience client is looking for. With almost 50% of the population over 50, hair color sales and services are at an all time high. These premium hair color investments need the highest level of protection and conditioning benefits in order to maintain not only the color but to keep that color treated hair fabric in the best condition. Organic shampoos, conditioners and styling products need to contain special organic proteins, moisturizers, anti-oxidants and sunscreens whose molecular size has been scientifically altered for better and longer pasting penetration into the hair and skin surface to perform at their highest level and have the maximum benefit to the hair and scalp. Look for ingredients like Organic Reishi Mushroom, Milk Thistle, Chinese Foxglove, Ku Shen and Wolfberry. These multi-task organic ingredients are a double threat as hair and skin strengtheners and powerful antioxidants to ward off the damaging effects of free radical pollutants that are deposited both by chemical hair color services and thru the environment. This helps to protect and preserve the hair color from fading.
The base blend for an organic product is also very important. Look for organic shampoos and conditioners that contain no water and instead use a base blend mixture of antioxidants such as Organic White, Green and Oolong Tea. Water free formulas do a better job of protecting the hair fabric and are more highly concentrated. Also this type of anti-oxidant base blend actually has the same positive effect on the hair and skin fabric. Gone are the days where a women stops coloring her hair at a certain age. Women are living longer and with their desire to stay current and maintain their looks a big part of their thought process, protecting their hair color service is imperative.
(Tela Beauty Organics by Philip Pelusi Color Guard Shampoo and Color Guard Conditioner)
When choosing an organic product also look for one created by a hairdresser. The importance here is to make sure that the organic product you are choosing meets their demands when it comes to style creativity and texture control. Going green has never looked so good!