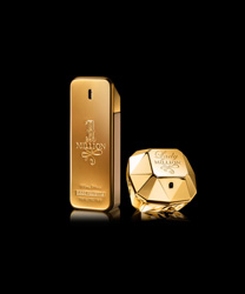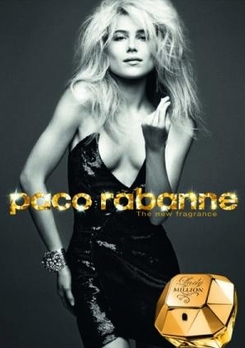 About two months ago I went to an event to check-out Paco Rabanne's 1 Million men's scent and their soon-to-be-launched Lady Million for women (appropriately enough the event took place at GoldBar in NYC!). I've waited this long to write about it because I didn't want to get everyone excited about something that was still months away! Now with the release around the corner (both fragrances hit Sephora exclusively mid-September), here's some more info on the two new scents! While Paco Rabanne has not introduced a scent in the US in a decade, 1 Million is the #1 best selling fragrance in the world. You still won't be able to get it here in the States until September, but if you happen to be traveling this summer you'll likely spot it in beauty boutiques.
Fitting given its name, the 1 Million bottle is shaped like a gold ingot, whereas the Lady Million bottle is shaped like a gold diamond.
Lady Million (which is already out in France), is a floral woody scent with top notes that include bitter orange, raspberry and neroli; its middle notes are orange blossom, Arabian jasmine, and gardenia, and the bottom notes are patchouli, amber, and honey notes.
The eau de parfum spray comes in 30-, 50- and 80-ml. sizes, which will retail for around $48, $65 and $88 respectively. The best part – the fragrance works double-duty as a chic paperweight:-)