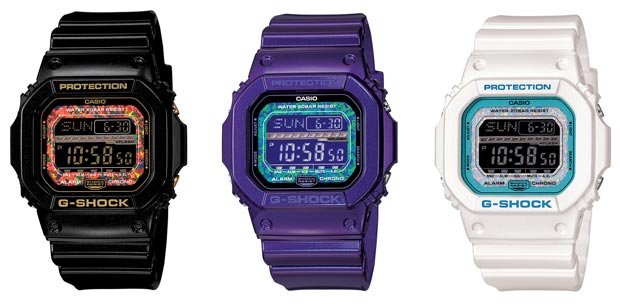 Last week Casio hosted an event to celebrate their new G-Shock watches. Honestly I didn't even know these still existed! When I was younger, I was completely obsessed with Baby G watches and I still have all the ones that I got as rewards for good grades and such (gotta love parents and their bribery tactics!).
Not only do these watches still exist, there are a ton of different styles as I learned at the event! Below is a photo I snapped of the Hellz Bellz x Baby-G watches – the BG5600HZ-7 and the BG5600HZ-9 – each of which is an ode to 80s pop culture. The watches will retail for $89 when they hit stores in September.
Also worth singling out is the G-Shock GLS5600KL, pictured above. It comes in 3 colorways and will retail for $130 when it hits in September. I love the retro look of this style (kind of reminds me of Timex80), but it's also a very practical watch with shock resistance (naturally!), water resistance up to 200 meters, low temperature resistance to -4°F, auto backlight, world time, four multi-function alarms, dual 1/100th second stopwatches, countdown timer, mute function, and 12/24 hour formats.