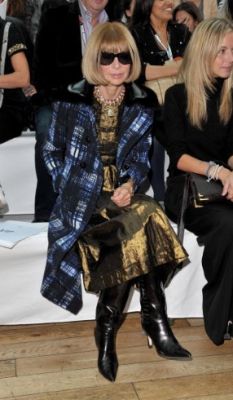 Were you expecting something different? Anna Wintour is making the rounds at the fashion weeks across the globe. After attending the fabulous shows in New York City, the Vogue editor-in-cheif headed across the pond to London Fashion Week. On September 20th, Anna sat front row at the Nicole Farhi Spring/Summer 2011 fashion show.
Wearing signature sunglasses, Anna wore high black boots, a bronze taffeta dress and a Prada Fall 2010 coat. Though we might expect Anna to wear Prada, I love the unexpected leather and fur on the collar of this blue and black coat. I absolutely adore this coat and I feel like we could see something like this on an elegant lady such as Anna, as well as a young and fun actress like Dianna Agron. Granted, Dianna always wears classy lines such as Carolina Herrera, she would look gorgeous in this coat.
Doesn't this make you wish it was already cool enough to wear a gorgeous jacket such as this? In Texas, I can't imagine wearing a jacket until months from now. Where are you? When can you get to wear coats?