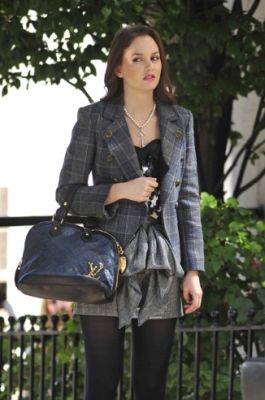 Granted this isn't the best shot of Leighton Meester, but that bag! Gorgeous. Leighton Meester was photographed on Thursday on the set of Gossip Girl carrying a Louis Vuitton bag from Fall 2009. Unfortunately this bag was limited edition and is no longer available.
Of course the girls of GG get all the good stuff, it's no surprise that Blair gets to carry a special bag. With black leather and gold hardware and a gold Louis Vuitton logo in the corner, this bag literally screams out "Carry me!" to me. Personally I love gold, and although the Louis Vuitton monogram bags have been played out too much thanks to Snoop Dogg, this bag is gorgeous.
If we know anything about Blair, we know it's all about looking fabulous yet effortless. With her opaque black tights and grey jacket, we know Blair needs a gorgeous fall bag to match. Gossip Girl stylist Eric Daman provides our star with this Louis Vuitton bag to give a pop of gold through her accessories. I truly love this bag and it really is a shame it is no longer available.