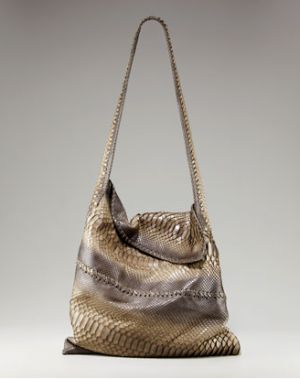 Slouchy design, whisky or olive ombre python in color with whipstitch detail and an asymmetric flap top describes the Carlos Falchi Diagonal Ombre Feed Bag.
This is truly a wear-anywhere bag that could easily be worn to the office and beyond. There's something about the flap top that I love. It ties into the whole slouchy appearence to give it an even more laid back feel.
To the untrained eye you may think it looks like your average Hobo, but it's much more posh than that. It is a Feed bag. Given its name because of it's slightly longer shape, of well, a horse's feed bag. Clever Carlos, Clever.
Carlos Falchi's collections are usually rich in skins and amazing textured bags and this one is no different. But for all the California dreamers out there I have bad news… the
Python is not available in your state. Ah, well. You still have sunshine and Pinks hotdogs, so life isn't so bad.
Check it out at Bergdof Goodman for $2,195.00