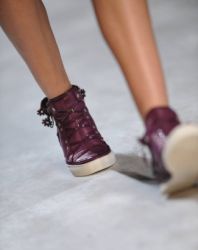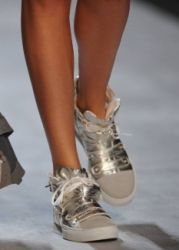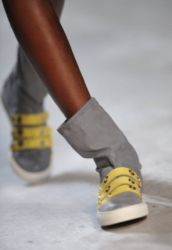 Designers Marithe et Francois Girbaud for spring-summer 2011 ready-to wear collection presentation in Paris.
I wear sneakers out of necessity. When I'm working out (ew), when I have a long way to walk, and when I am doing something dirty (I mean outside/nature wise, perverts). But these sneakers are a shoe of a different breed. I would not run in these, no, no of course not. Would I walk far in them? I suppose I could. I wouldn't dare get them dirty. This, my friends, can be tricky.
The "I'm as cool as Kanye and can kick it in high top sneakers" look is a challenge for even seasoned shoe vets. The colors might make it a little easier to not look to boyish with. Still, an extreme skinny jean might be needed for fall wear or a casual jersey dress so to not look too sloppy. Don't you dare wear a baseball cap sidewise with this though- that's just taking it to a whole new level of "look mom- I'm gangsta!" Don't try to play into the shoe, let the shoe play into your outfits and be a casual, contemporary and sexy addition in a laid back way, if done right.
In conclusion, if I was cooler, I would rock these bad boys.