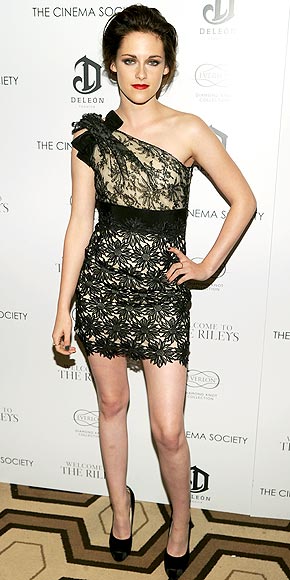 When I saw these photos of Kristen Stewart in Valentino Resort 2011, I nearly spit my water out. Oh, who am I kidding? I nearly spit my Ketel One dirty on rocks out. Just kidding. It's not polite to drink on the job.
Normally I am against the Twilight actress and her ever-present pout, but I absolutely adore everything about this picture. She attended the New York Screening of the film "Welcome To The Rileys" looking more glamorous than ever. This dress is sophisticated yet youthful and sexy. Though the dress is telling us she's classy, the pose and pout still give us the edge that is Kristen Stewart.
Her red lips give us a great pop of color, but I seriously cannot stop staring at this dress. It might be one of my favorite red carpet looks in a while. Black? Lace? A bow?! I'm having a panic attack over here, folks! A panic attack of love. What do you think?