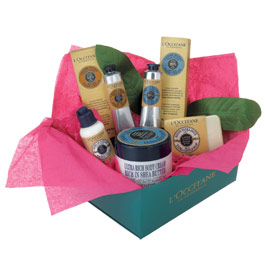 About an hour before I headed to JFK to board a flight to San Francisco I stopped by L'Occitane's Columbus Avenue store to check-out their 2010 Holiday collection – and boy was it worth the rush! The weather in NYC has quickly turned to being unbearably dry, so I've completely changed my skincare routine and busted out my humidifier. There's no brand I associate more with treating dry skin than L'Occitane, so it's fitting that among the brand's many stocking stuffers is their ever-popular Hand Cream Bouquet ($48, $60 value) with six mini creams. They've also got a Shea Orchard Medley ($49, $64 value), which is stocked with a variety of Shea soaps, butters (the Pure Shea Butter Orange Honey is my fave – smells delicious, it's multi-tasking, and super moisturizing), and hand creams. L'Occitane stores are already stocked with most of the holiday options, but expect the full enchilada by November 11th (all gift sets are offered at a discount and free gift wrap services are offered).
For their charitable initiative L'Occitane has, this year once again, created a soap set to benefit ORBIS. 100% of the proceeds are donated to help fight preventable blindness. I was shocked to learn that not only is 80% of the world's blindness curable, but it only costs $60 to perform the operation to restore an effected person's vision. With each soap set priced at just $12, it only takes buying 5 to change a person's life forever! Check-out the soaps here and jump for a look at the new makeup collection!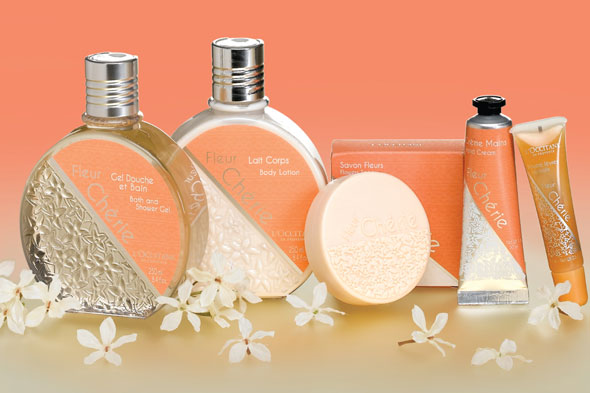 L'Occitane's makeup collection is back for its second season next month. The new limited edition collection is called Fleur Chérie and includes a variety of face powders ($16), lip glosses ($14), lipsticks ($14), a lip balm ($12), eye pencils ($14), face powder pearls ($28) and a palette in the shape of a locket ($26). The collection is paraben free and all the products are packed in an eco-friendly fashion so they're super light and easily portable. Lots of orange and light pink shades and a number of shimmery options are in this season's line-up. Stock up if you really like something, because once the shades are gone, they won't be brought back for another season (as I learned the hard way when, a few weeks ago, I went into my local L'Occitane to buy a gloss from their debut collection).
To go along with the makeup, a Fleur Chérie fragrance ($40) was created that combines orange blossom with soft woody notes for a light, floral fragrance. Shower Gel ($20), Body Lotion ($24), Flowers Soap ($7), Hand Cream ($10), and a Scented Candle ($23), are also available from Fleur Chérie and a variety of gift set options are available.
So much to choose from!