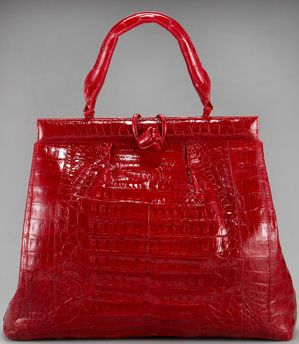 If the devil is in the details, then Satan might live in this Nancy Gonzalez Crocodile Loop-Closure Satchel. Would you look at that color? Would you look at that framed top with button-loop closure? This looks like Mary Poppins bag, if Mary Poppins secretly turned out to be Anna Wintour.
This shiny Caiman fuscus crocodile bag comes in red or black. It is lined with suede and has a feet protected bottom making it much easier to store large amounts of goodies in it. Like a lamp, or a spoon full of sugar.
I think when you carry a bold bag like this, you are making a statement. Saying not only do you have amazing taste, but you aren't afraid to rock a big red croc on your arm. This bad is chic to the max. But be prepared to pay for its fabulous-ness. It will set you back $3,400.00 at Bergdorf Goodman.