When it comes to eyeshadow, foundation, gloss, etc. I have my favorites, but they're ever-changing as I try out new things. When it comes to hair care however, Kerastase is a constant favorite. When my hair is a nest of knots, when it's dry as can be – even when it's a frizzy summer disaster, Kerastase has proven that it can solve my hair issues (I opt for their shampoo and use their hair masques as conditioner). Now Kerastase has added a men's line, Homme Capital Force, to their line-up. The collection includes treatment and cleansing products for oily and thinning hair as well as two styling products – a gel and paste.
The line's main focus is addressing the concern almost every man (and woman…sadly!), has which is thinning hair. Unfortunately Kerastase didn't include a conditioner (just leave-in treatments). My dad used their densifying shampoo (product list after the jump), but then complained that while he loved the smell – a wooded spice green fragrance with some of my favorite notes including amber and ceder – he had a hard time combing through his hair after. I'm sure given the amount of hair he has this wouldn't have been a problem had he opted to use a leave-in treatment, but he (and most men I know), can't be bothered to take two seconds to figure out what that even is! I'm venturing to guess that Kerastase's target male demographic would be willing to use the full line from shampoo to treatment to styling to achieve their desired results, but it's a shame that they didn't add in a densifying conditioner for people like my dad who are into pampering themselves, but not into veering off the basics with sprays and gels.
What does your husband/boyfriend/dad/brother use on his hair? Jump for the run-down of products and some info on online offers!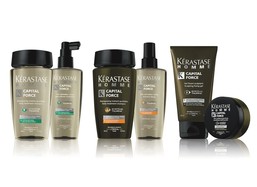 Cleanse

Bain Capital Force Anti-Oiliness, $34 – Daily treatment shampoo with a cooling effect that prevents sebum build-up

Bain Capital Force Densifying, $34 – Daily treatment shampoo with a thickening effect for fine, limp hair
Treat

Activateur Capital Force Anti-Oiliness, $32 – Hair boosting treatment that strengthens hair from root to tip

Activateur Capital Force Densifying, $32 – Hair boosting treatment for fine, limp hair, that strengthens from root to tip, adding body and control
Style

Gel Capital Force, $30 – Sculpting gel that maintains healthy-looking hair with no visible residue (medium hold)

Pâte Capital Force, $30 – Densifying modeling paste that provides long-lasting hold without a sticky residue (light hold)
Kerastase has a number of special offers going on online – you get a free Simon Spurr travel kit with your purchase of any two Homme Capital Force products (the Homme line made its debut at Spurr's S/S 2011 show), and Kerastase members (sign up here), get 5 free samples with every order. Non-members get 4 free samples. All offers good through the end of this month.