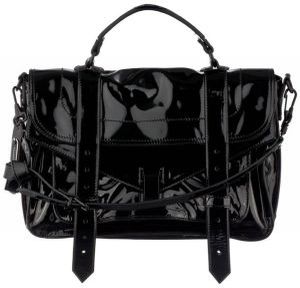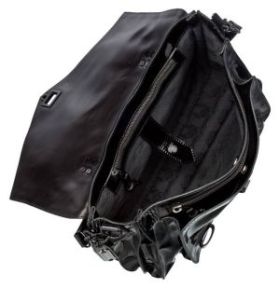 It's hard to believe that Proenza Schouler's runaway success PS1 bag, first introduced in 2008, has never been incarnated into patent leather form. Well, ladies, that's all about to change. Felt, python and suede: move aside. Later this month, Jack McCollough and Lazaro Hernandez will debut a black patent leather PS1 exclusively at www.proenzaschouler.com. To be specific, three forms will be sold: a pochette, a medium and a large. Never one to rest of their laurels, however, the Proenza boys developed a new technique to make their patent leather bag.
Rather than infusing plastic over the top layer of leather, as is how most patent leather bags are made, transparent lacquer was "painted" on the outermost layer of the skin to create not only its more "Matrix"-like façade, but a softer feel as well. I've never been a big fan of patent, but this bag is done subtlety enough to retain its classic virtues and timeless style. Also, I like that the hardware is all black; it's quite on point with what's going on in the market right now (witness Hermès' introduction of an all-black series of bags this fall). Kudos to the designers! Now about that briefcase size PS1…
For more on the new patent bags, tune into Style.com. The Web site will debut a new short starring the designers showing the patent PS1, along with a custom patent version of a Fall 2010 look, in action on what will no doubt be an elated model.