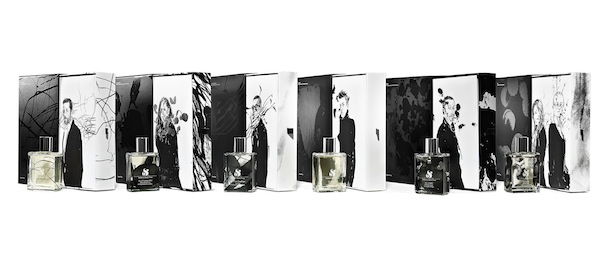 For the third year the Six Scents Parfums fragrance initiative will be launching, November 8, with a limited edition collection that pairs some of the world leading rising designers (think Phillip Lim, Henry Holland…), with leading noses to create six unisex scents. It may seem like everyone has their own fragrance these days (Bruce Wills?? Uch!), but the process is far from simple and for up-and-coming designers who don't sell their name to just anyone, a permanent fragrance collection is not always in the cards. This project is an awesome multi-sensory collaboration that allows rising stars of the fashion industry who are as of now too small (and discerning!), to have their own fragrance, to express their vision in a new format.
Series Three of the project features unisex fragrances (when I smelled them I got barely any notes of floral and no fruit), from the below designers –
-Alexis Mabille: my favorite very clean and sexy not at all floral
-Mary Katrantzou: very, very light to the point where it almost smells like a mist, though no hints of floral or fruit which makes it a nice warm-weather alternative to most traditional mists
-Junn.J: this one would make a great candle, it has bottom notes that made me think of cacao!
-Rad Hourani: at first it struck me as almost an eau de parfume because of the intense first whiff I got, but on the dry down I got some lighter, delicate (almost floral), notes
-N.Hoolywood: this one smelled the most "manly" with woody notes coming off the strongest
-Ohne Titel: there's a soft spicy-ness mixed with a touch of sweetness (but not overly sweet like you would get with a juicy floral), that I was drawn to with this fragrance
Each box contains an individually numbered bottle, a portrait by Robert Knoke, and a DVD with the Six Scents: Series Three documentary and short films. More on the collection and where you can find it after the jump!

Starting Monday, the fragrances will go on sale at over
220 retailers worldwide including Opening Ceremony (New York), The
Standard hotels, Lucky Scent (Los Angeles), Liberty of London, Colette
(Paris), 10 Corso Como (Seoul & Milan), Adelaide (Tokyo), Assin
(Melbourne, Australia), Club 21 (Singapore), and Joyce (Hong Kong) for
$149 each (there is a limited quantity of 3,000 bottles).
On a side note, for those heading to Miami for Art Basel, a special outdoor sculpture and indoor video installation with artists Olaf Breuning, Heather Sommerfeld and Rad Hourani will be held at The Standard hotel, Miami Beach to coincide with the art fair.