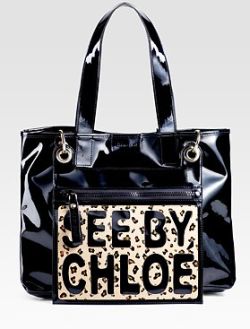 Have you ever thought, "Man oh man I really need a shiny bag that is in the form of a gigantic tote!" But then you went to the store and all of them were just too, well, too boring? I mean, they're all just black and nothing sets them apart! And then, if you were to get a boring black one, how are people supposed to know what brand it is?!
Fear not my good friends; See by Chloe has your solution. Not only can you get a massive shiny bag, but people will not be left wondering who in the world made it, because, get this: it says on the bag!
Okay, I can't do it. I can't go any longer pretending this is okay. First, it's a shiny bag, but it's not patent leather, it's "super-shiny nylon." Then, instead of a subtle "See by Chloe" tag, it says "SEE BY CHLOE" in humongous letters with a leopard print background. How is this okay? Someone tell me. I need to know.
If you feel the need to tell, I mean scream, the brand name of your fugly bag, go ahead and pick you up one of these little beauties for $195. Yuck.
SEE CHLOE AT Saks Fifth Avenue