Looking for that perfect gift for your best friend? You know, the friend who has been there through break ups, make ups, weddings, and funerals. The same friend that came to your rescue that time you woke her up at 4 in the morning to make her sit in a diner parking lot with you after a break up while you screamed "WHY GOD, WHY" and she sat there, patiently, repeating, "it's not you, it's him," while feeding you Kit Kats and booze.
Yea, that friend deserves a nice Christmas present. Or hell, buy one for yourself because you deserve a reward. Clearly, you've been through a lot this year. Here is what I hope the people who love me are shopping for this very minute, and I think you should scoop them up too!
1.) Splurge: Chloé Marcie Medium Leather Top Handle Bag
Husbands, have you done something wrong recently? Anyone out there want to impress their mother in law? This bag fit's it all.
The color is gorgeous, the braided leather trim is perfection and the supple leather makes me want to use it as a pillow. This bag is boho chic and I would give Santa a big fat kiss if this showed up under my tree.
The Chloé Marcie Medium Leather bag can also be worn as a crossbody, so your hands are free for drinking hot cocoa, or rum, or for returning that giant green fleece scarf with red puff balls all over it that your Aunt Mindy gave you.
Available @ Saks at the splurge price of $1,795.00
2.) Splurge #2 Alexander McQueen Metallic Flap Shoulder Bag: The stuff dreams are made of.
Want to floor her on Christmas morning? This bag just gave me goose bumps.
The McQueen metallic flap shoulder bag is glorious. The suede is amazing, the pockets are adorable, and the straps on the front make me swoon like a school girl.
One catch, you will have to shell out $1,595.00 at Bergdorf's, but that's a small price to pay to make her feel like a million bucks.
3.) The weekender: Because we have a lot of crap to carry.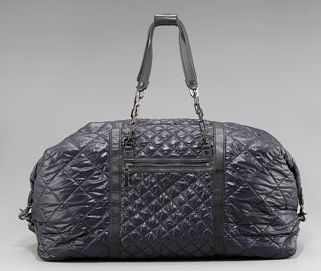 Every time I go on a trip I can't seem to find a stylish bag to carry my copies of Vogue, cans of Pringles, various delicious candy and Ambien in. Enter the Tory Burch Alice Quilted Weekender. Problem solved.
This is a fabulous gift. Useful yet chic, it is perfect for taking those weekend trips to Barbados, or the south of France, or to Buffalo, NY to visit me, have a cocktail and watch the Bills lose. You can get a lot of use out of this big guy and at the reasonable price of $550.00, it won't completely demolish your shopping budget.
Pick it up at Bergdorf's, wrap it up and hand it over (to me).
4.) The frugal yet fabulous gift: Rebecca Minkoff 3 Zip Rocker Bag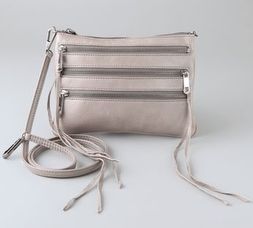 Rebecca Minkoff makes a mean bag at a lean price and this one is no exception. The 3 zip rocket bag is a fabulous gift if you want to give a chic present without going bankrupt, which is a good way to go because you should save money for your New Years Eve outfit anyway.
It's fun, extremely wearable, functional and adorable. Score it at @ Shopbop today for $195.00.