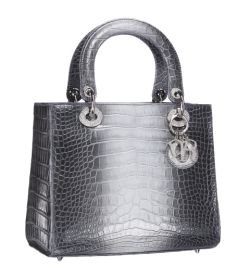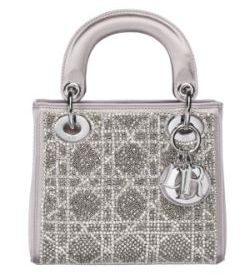 As has become the norm for luxury fashion houses celebrating momentous store openings–or re-openings–Dior has launched five very special accessories available exclusively at its newly-renovated East 57th Street Manhattan flagship, which opens to the public on Saturday. Given the storied label's re-focus on its iconic Lady Dior bag–several gorgeous incarnations appeared on its Spring 2011 runway back in October–it's no surprise that the leathergoods focused on the shape made so famous by Princess Diana. But these are no ordinary satchels, mind you.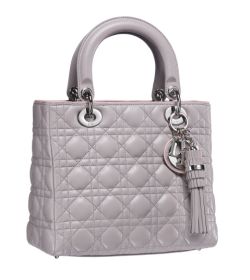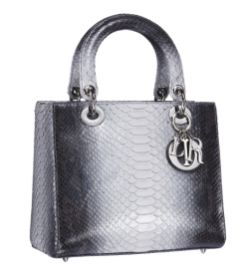 There are four Lady Dior bags, each one more exclusive and expensive
than the other: a mini embroidered satin, of which 10 units were made,
retails for $5,200 while a medium lambskin with tassel adornment, of
which 56 units were made, retails for $3,000. Those wanting to up the
ante will be inclined toward the exotic Lady Dior offerings: a $6,100
medium dégradé python version, of which 10 were made, and, for the true
Dior die-hards, a medium crocodile version festooned with 628 diamonds
(each diamond, by the way, is cut with 57 facets to reflect the 57th St.
location). Only one of the latter was made. Its price? $300,000. For
those wanting handle-free exclusivity, there's a small satin clutch (20
made), available for a more budget friendly $1,400. As bearer of its
limited availability, each piece has been personally signed by John
Galliano and bears a plaque that reads "Pièce Unique New York" (the croc
Lady Dior's is made of white gold).
At these prices, the bags are clearly not meant for the faint of
heart. They're also not for the timid and subtle set. But, then again,
Dior has always been about melding drama with style–and in one of these
bags, you're sure to achieve both in spectacular fashion. Just be
careful your croc Birkin doesn't turn green with envy.
Available at Dior, 21 E. 57th St., 212 931 2950