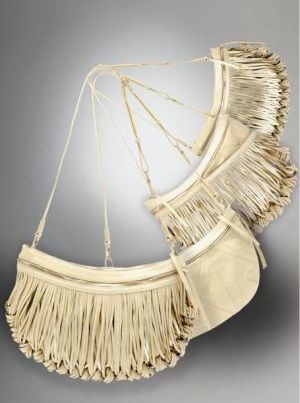 Peek in my bag closet and you'll think Sybil lives there. I have bags for every personality imaginable (cuz I never know who I'm going to be when I wake up). I don't like being confined to one style, which is why I'm kind of obsessing over the new Katherine Kwei "Amber" bags (I think she should have named them the "Sybil" bags, just saying). The Amber messenger (left, $820) can be transformed three different ways, if you're not into the fringe-y thing one day, you can unzip it for a classic leather bag, the fringes can also be turned inside out and zipped back on for a different color option! Genius!
The Amber Switch Bag has six separate looks! This is how it works: the signature knotted fringe zips off to reveal a beautiful leather handbag. The fringe layer can then be turned inside out and zipped back onto the bag, offering an entirely different color option! The strap also is removable, making for a chic clutch option.
3 shoulder bag options + 3 clutch options= 6 looks for the price of one. ($690) This is going to be so great for traveling!