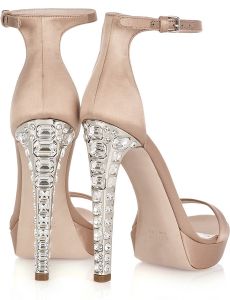 Coquette loves how the Louis Vuitton Speedy Bag is still trendy since it debuted in the 1930's!
These Miu Miu Crystal-Heel Satin Sandals at Shoe Snob will make you nude and sparkly and a fairy-tale waiting to happen.
The Lancome Artliner has a foam tip pen that is the easiest applicator Beauty Snob has ever used with liquid liners.
Shopping and Infobought these amazingAlexander Wang black platform boots on sale for 50% off.
There is nothing cuter and more dapper than a little sweater vest for your handsome tiny man at Tot Snob.
New Year, New Wardrobe: 11 Fashionable Resolutions For 2011 at FabSugar.
Jewel Snob has no idea what dress she's wearing for New Year's Eve but she knows she'll be wearing one of her Grayce pieces from Molly Sims – get obsessed with Grayce jewels too!
Second City Style interviewed designer Roland Mouret about his SS/11 collection and store opening in London.
This gown at Couture Snob is not only timeless, but we've yet to see a woman who doesn't look simply stunning wearing Alberta Ferretti's deceivingly simple designs.