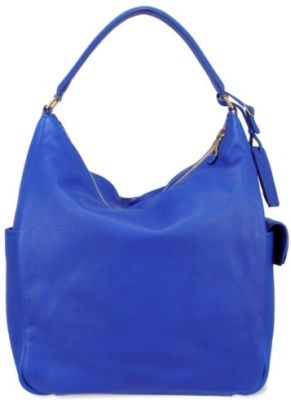 This, my friends is handbag candy; Juicy, delicious blueberry candy.
The Yves Saint-Laurent woody washed multy shoulder bag is simple, supple and perfect for day wear. Yes, it's $1862.50, but hey, tis the season to spend money on girls like Emma, no?
This bag is definitely a head turner, especially if you opt for the bright blue (over the soft black it also comes in). But, if I am being totally honest with myself, which I usually am, because when I'm not, I end up doing something stupid, like the time I bought snowshoes, or thought I would look like Heidi Klum if I cut myself bangs. Anyway, if I am being honest with myself, I could not bring myself to spend almost 2G's on this bag. It is totally functional, cute and I bet I would wear it a ton, but that is a lot of money for a simple leather shoulder bag.
That being said, anyone reading this is welcome to buy it for me. I mean, it would be an amazing gift because that's what gifts are supposed to be- things you wouldn't buy for yourself, right?
I dub this bag a great gift. Something a sensible woman wouldn't say she needed because she probably has a million bags she can get the same wear and function out of and because of its large price tag, but one she wants because of its abnormal fabulous color and great shape.
Therefore Santa, I'd buy them out of these bad boys.
Pick it up at luisaviaroma for, again, $1862.50