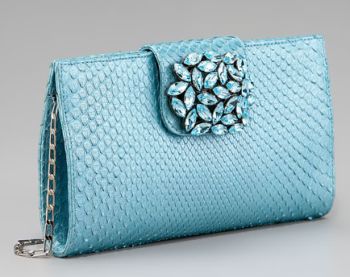 Picture this: The night is warm, the stars are out, and you're getting ready for a fancy night by the water. Your dress
is a pale yellow, your shoes are nude and high, and you have just a hint of a tan with some perfect coral lips and light pink shimmer on your eyes. Here is your missing piece in the "you look perfect" puzzle.
The Carlos Falchi small envelope clutch is a gorgeous summer piece that immediately makes me think of the fun colors of summer wear. It's covered in python and comes in turquoise, coral or taupe. The optional chain strap can be tucked in so you have the option of strap or no strap, and the crystals make it shimmer like a sunny day at sea. This bag had me hooked like a fish right away.
Pick up this beauty at Neiman Marcus for $995