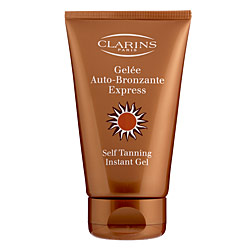 Some people look good pale; Bella Swan, Amanda Seyfried, Anne Hathaway, vampires, etc. Emma, however, does not.
I try to pull off the "winter glow" with blushes and rosy lips, but in photos I end up looking sick with too much makeup on. I think it may be because of my yellow undertones, or the fact that I have dirty blonde hair and I'm not a clear blonde or brunette. Whatever it is, it's not pretty, but I will not breakdown and get into a tanning bed because I feel like it's a sin. I also hate the mess, hassle and smell of a spray tan.
I have tried many self tanners to try to find one that gives me a natural color without the hassle of the sprays or booths, and the Clarins Self Tanning Instant Gel is the best one I've found. It's not going to get you super dark, but it gives you a natural, sun kissed bronze glow and is super easy to apply. I've only seen streaks once and that's when I literally slapped it on before a party and tried to make my legs look super tan (I ended up wearing stockings anyway).
All in all it's a great color, doesn't smell as strong as the sprays or some other self tanners I have tried, and is quick, easy, and won't make you look like your should be fist pumping with Snooki.
$32.50 at Saks
or Sephora.