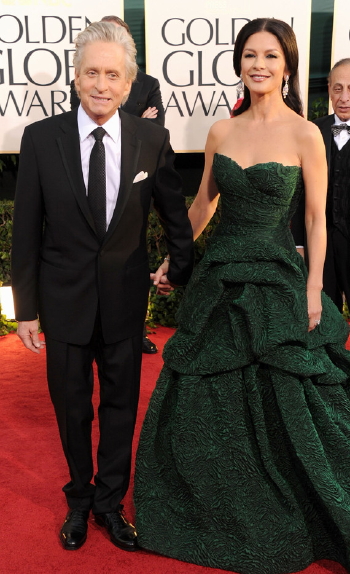 Green is the new black and pink is the new nude. That notion came across loud and clear at the 2011 Golden Globe Awards, where A-list leading ladies of television and film donned some stunning hues that nicely deviated from the traditional black palette. One of my favorites? Catherine Zeta-Jones in Monique Lhuillier. The Welsh actress is a fan of floor length gowns and Lhuillier's strapless emerald textured organza design, with a side drape and hand tufted skirt, was flattering in all the best ways. She looked like a modern day Scarlett O'Hara. There were other beautiful green-toned gowns at the Globes–Angelina Jolie in Atelier Versace, Mila Kunis in Vera Wang and Elisabeth Moss in custom Donna Karan Collection–but Zeta-Jones won it by a thread.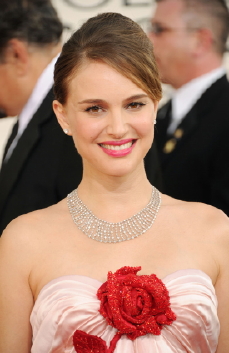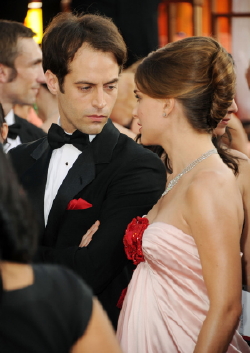 Perhaps the biggest upset of the night, in terms of red carpet fashion, was Natalie Portman. The expectant mother-to-be was expected to wear Dior or Rodarte, but instead went with the Dutch avant-garde duo of Viktor & Rolf. What a moment for off-the-beaten-track fashion! I couldn't help but think of how Tilda Swinton wears fashion to her own beat; it's refreshing that Natalie went a similar route. The Viktor & Rolf custom-made strapless, multi-layered column gown was awash in a dust-pink silk satin and adorned with a hand-embroidered Swarovski crystal red rose. The satin was draped in such a way so as to gently caress the baby bump without being vulgar; the crystal rose, meanwhile, coupled with that pronounced Tiffany's necklace, helped draw all eyes upward toward her upper body and away from her growing mid-section. Excellent idea!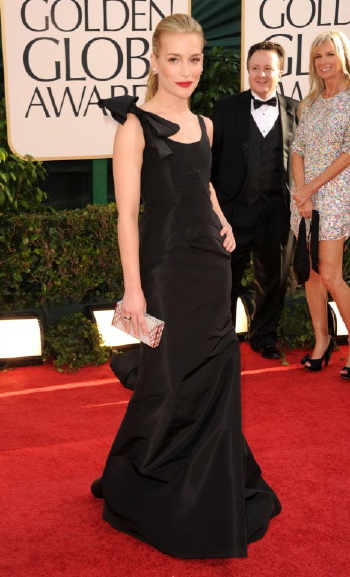 Last but not least, and this one was definitely not expected (the starlet, not the designer), but Piper Perabo really defined modern elegance. The Oscar de la Renta black silk faille column gown with bow detail and train she wore from the designer's spring runway show fit her like a glove. Paired with beautiful red lips and a slicked-back ponytail, it just all worked. While "Glee" star Lea Michele also wore de la Renta, she didn't quite have the same regal stature and maturity that Piper pulled off so beautifully. If Piper continues to dress with such aplomb, the fashion world will no doubt be paying much more attention to Ms. Perabo. Bravo, Oscar.