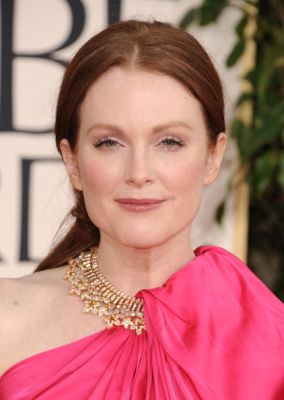 Julianne Moore is a favorite of mine, I saw her in Milan at an event last year and she is tiny in person! And really really beautiful, it's her bone structure, her face is perfectly proportioned. She looked flawless last night on the red carpet of the Golden Globe Awards in a dazzling pink, Lanvin dress. Her gorgeous makeup was created by Pati Dubroff, Clarins Celebrity Beauty Artist. A fuchsia dress on a red head can be difficult to match makeup to, but Dubroff chose to stay within the pink family creating contrasting hues on the eye lids (soft pink) and deep, rich blackberry on the lips.
Skin:
Dubroff started with Clarins Instant Smooth Line Correcting Concentrate to fill any fine lines on the skin and create an even canvas. She then applied the Instant Light Complexion Perfector in Rose Shimmer along her cheekbones for glowing skin that did not cover her freckles. Next, she swept a small amount of Blush Prodige in Miami Pink on the apples of her cheeks.
Eyes:
Clarins Instant Light Eye Perfecting Base was the foundation of the soft eye look, which not only helps pigment last all night but makes the color richer on the skin tone. Next, she used the pale pink eye shadow from Clarins new Neo Pastels Eye Palette and sculpted the eye using a matte taupe shade from the Pro Palette Eye Brow Kit. Competing the look was many coats of Wonder Perfect Mascara in Black.
Lips:
Berry stained lips, that looked like she just sipped a glass of wine were achieved without liner, but by dabbing on Clarins Rouge Prodige in Blackberry with the fingers.