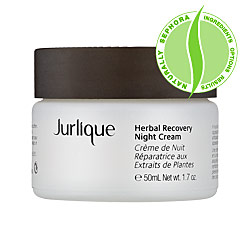 In my 25 years of life, I haven't worried about aging. Sure, my mother gave me a firm lecture when she heard I had tanned in college (not much, just a bit here and there, I know, I know, it's sinful) and I thoroughly regret not lathing on more sunscreen in high school, but hindsight's 20/20, and now I'm turning a new leaf.
I am not about to go nuts and start buying every anti-aging thing I see or spend major money on Botox, but I certainly know that the key to good skin is hydration, and am implementing a major beauty regimen to achieve that.
The Jurlique Herbal Recovery Night Cream provides some serious hydration. It is all natural with antioxidants and aides to protect skin from environmental factors. The cream literally glides on and absorbs well. It smells like a fresh spring day and my skin looked perfectly soft with a light glow the next day.
Though it is a bit pricey, it's natural, so you can feel good about what you're putting in your pores and it really puts the moisture back in your mug. A little goes a long way with this cream too, so it should last you a while.
Pick it up at Sephora for $48