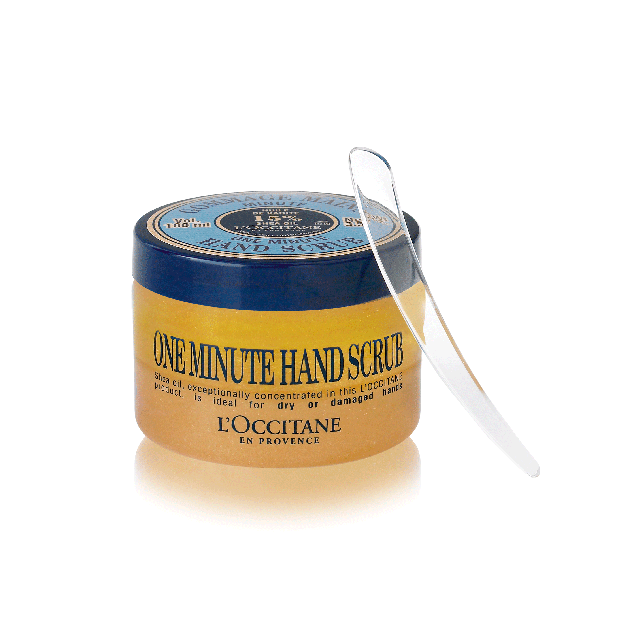 Sadly my India trip never happened and I ended up stuck here in the frigid NYC cold:( The plan was for my boyfriend to fly from Cali to NYC and then for us both to fly out to Mumbai. Unfortunately, the NYC blizzard caused him to get stuck in Cali for four days and our India flight was canceled as the NY airports shut down for two days. By the time they could re-schedule us my friend's 5-day wedding was over and our trip was kaput…so adios SPF 45 and hello intense body, face, and hand scrubs! Still can't believe it!! I did learn one lesson from it all…get travel insurance! Seriously we're now out the equivalent of a damn nice Birkin because we didn't! Ah I can't bear to spend one more second thinking about it so on to good news! I was sent some samples of the new L'Occitane scrubs a few weeks ago and the timing couldn't have been better. January 17 you'll see a new
Ultra Rich Face Scrub
($32), new
Ultra Rich Body Scrub
($36), and my fave, the new
One Minute Hand Scrub ($22) in stores and online. Amping up scrubing time to get rid of dead skin cells is a must in frigid weather, especially if you're like me and go from a sauna-like apartment to freezing weather outside throughout the day. More after the jump!

All of the newbie L'Occitane products are formulated with Shea Butter
and none are super harsh so they work on sensitive skin like mine. I
don't typically use a scrub on my hands, but since they're the most
prone to dryness and I was too lazy to trek through the snow last week
for a manicure I did a little DIY mani/pedi at home. It's a nourishingly refreshing hand treatment you can pamper yourself to 2-3 times a week and follow with hand cream. L'Occitane has always been a reliable winter go-to for me and these haven't disappointed, just don't forget to follow any of the scrubs with moisturizer and drink lots of water to stay hydrated from the inside too!