by Liza Powel O'Brien
American soil lost its virginity this year, when the first-ever stateside showing of Chanel Haute Couture made quiet appearances in New York and Los Angeles. Used to be, viewings of authentic current couture garment samples required a ticket to Paris as price of entry–it seems the house might be hopeful that the painstaking and costly process of packing and safely shipping the gowns will pay off with a few orders from home-grown domestic goddesses–or maybe visiting royalty from far-flung lands?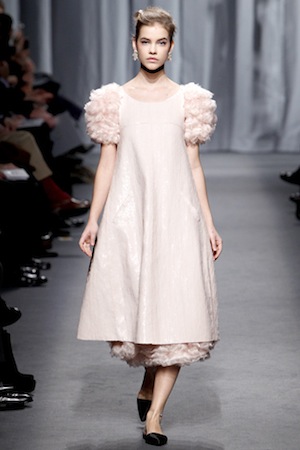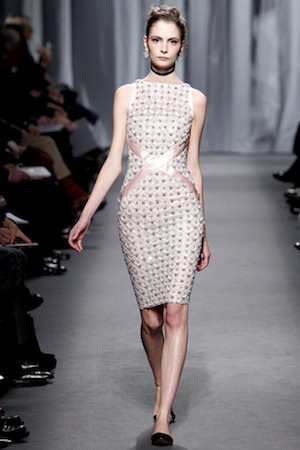 At the request of our host, we refrained from taking pictures and so can only attempt to convey in words the details that are so remarkable they may prove to defy description: the millions of tiny, pale pink paillettes sewn with invisible stitches onto a tea-length dress (above left); the elaborate yet rigorously linear beading that recalled, in both look and feel, perfectly formed sprigs of white-and-green rosemary (above right); the underskirts of shredded organza that appeared to have been clipped directly from a clear sky at sunrise and attached to their bodices in gravity-defying whirls of stiff, soft clouds (below left); the mesh trousers made nearly solid with layers of beads each measuring no more than 1/16th of an inch long (below right). No machine has ever touched these garments; each one represents hundreds of hours of work by the artisans who created it.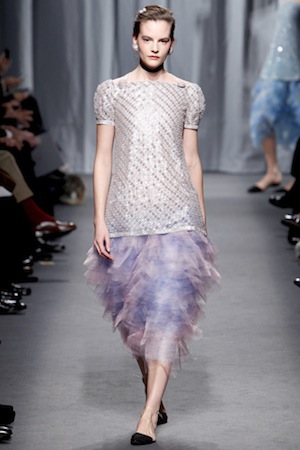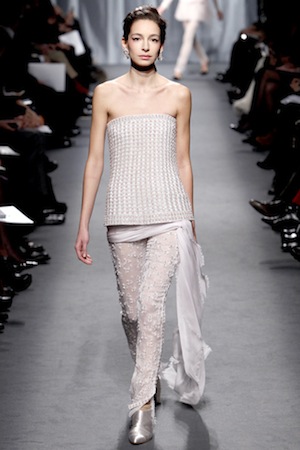 It was an evening of contradictions: girlish necklines on transparent tops; demure silhouettes in slinky, sexy drape; a room full of miniscule stitches and exquisitely tiny patterns being appraised by women wearing diamonds that could clog a toilet.
The pieces are undeniably works of art, but they are also, just as undeniably, items of clothing. They have been handled, worn, walked in, removed, packed, shipped, unpacked, and handled some more, with no signs of distress. They are so delicate one worries they might rip by being breathed on, yet their delicacy is deceptive. Their construction–the long, hard work of all those gifted hands and eyes–has an intense integrity. Like all the most beautiful things, they hold up. They are flights of fancy that don't evaporate at first light; sartorial confections that sustain; works of ethereal armor.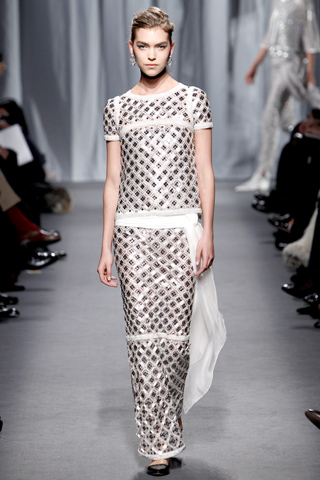 The cult of Karl can seem suspicious–isn't the whole Chanel craze just, at a certain point, so much idolatry and blind brand worship? Haven't we all been, to some degree or another, victimized by the sometimes absurd, often arbitrary whims of the fashion establishment? Who the hell can afford a million-dollar coat (below), and where in God's name would she wear it? And does any of this justify spending three hundred and fifty dollars on a pair of plastic sunglasses? These questions must go unanswered for now but one thing has become quite clear indeed: to interact with Chanel couture in person is to have a tactile experience with a true work of art. And that is a profound experience, no matter what continent you happen to be standing on.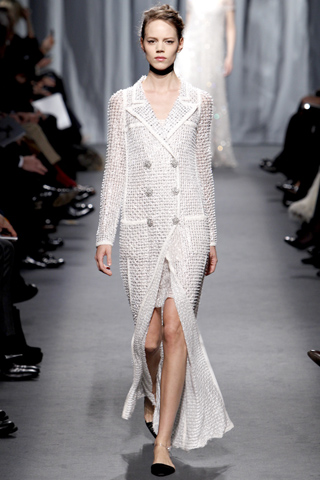 Images via Style.com