Update: Large black shearling bag is $3,950 and the shearling clutch is $2,750~
We were invited to Ralph Lauren's design studio yesterday to preview the entire Fall 2011 collection before it hit the runway today (approved by Mr. Lauren himself, the hugest honor!) and could not contain our excitement over the new bag line! It was clear that Ralph Lauren had 1920′s Shanghai in mind when he designed the art deco flavored collection (you will see a lot of red from RL this season, the most prosperous color in our culture). During the roaring 20′s, there was no city more glamorous than Shanghai– and the journey Ralph takes us on for Fall 2011 is just as spectacular.
Let's be honest here– Ralph Lauren is not a house known for accessories; its ready-to-wear business has been the bread and butter of the brand but we believe this bag collection will change the scope of its accessories business forever.
What was most impressive was the range of the bag line (50+ styles of mostly over-sized clutches peppered with bejeweled minaudieres and about a dozen larger shoulder bags) and the attention to minute details. There were so many pieces we loved that it was hard to edit the must have pieces to feature. With a bit of self restraint, we managed to pick 25 styles to share with you (only half of the collection!). Starting with our absolute favorite– the jade hued lizard clutch above with black onyx clasp. It pretty much set the tone for the entire collection.
The runway show is happening right now in NYC, but no worries if you were not one of the lucky people invited to attend. We have the close up look of Fall 2011 bags right here– jump for more!
Video stream of the show will be on Ralph Lauren site tomorrow morning.
Note the new logo "RLC" (Ralph Lauren Company) in an art deco design. If you tilt your head to the left, you will see the R interlaced with the L ending with the C.

Intricately beaded art deco pattern on this oversized suede clutch lends a vintage feel. It's about 14″ wide– oversized clutches are great for both day and night.
The "new" Ricky bag– in pony hair and a leather covered lock. Note the hand sewn whip stitching on the top flap. Gives it a completely new flavor.
The clasp on this red box calf clutch is a design repeated throughout the collection– on pins, shoes (wait until you see the shoes!) and jewelry.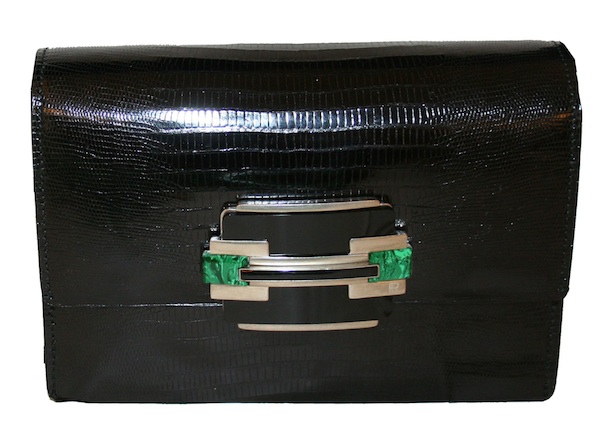 Malachite clasp on black lizard clutch, major.
All images property of Ralph Lauren and Bagsnob.com and subject to International copyright laws.
Um, I dared not ask what the price point will be for this stunning black alligator clutch but it's so beautiful I'm certain it will end up on the arms of many chic Ralph girls.
Inspired by vintage jewelry boxes, we expect to see the red and black box clutches on the red carpet very soon!
A structured bag for work or play (the luggage tag is removable)– note the etched hardware, tres art deco…
More etched hardware.
The new "Ricky" in soft red calf leather. I love the leather covered lock, it adds an interesting detail and is unmistakably Ralph Lauren without being in your face.
This is what we call an "occasion" bag. It's not something you'll carry everyday but for special occasions, it will stand out
The embroidery on this clutch is ornate without being ostentatious. I love that the entire collection stayed on the same cohesive art deco course.
Quilted leather Ricky clutch.
This jewel of a minaudiere- is one of my absolute favorites and reminds me of a jade necklace my mother gave me. No traditional Chinese woman is ever without a piece of jade around her neck, wrist or in her jewelry box. (photo taken with my iPhone as the images were not ready for it yet).
Bold and chic, art deco is my favorite period and the decor of my new home. It's strange how in sync Ralph is with my taste.
Sheepskin, so luxe yet PC. Ralph Lauren was one of the first designers to join PETA's anti-fur movement. High quality sheepskin and calf hair skin are by-products and used throughout the ready-to-wear and accessories for Fall 2011.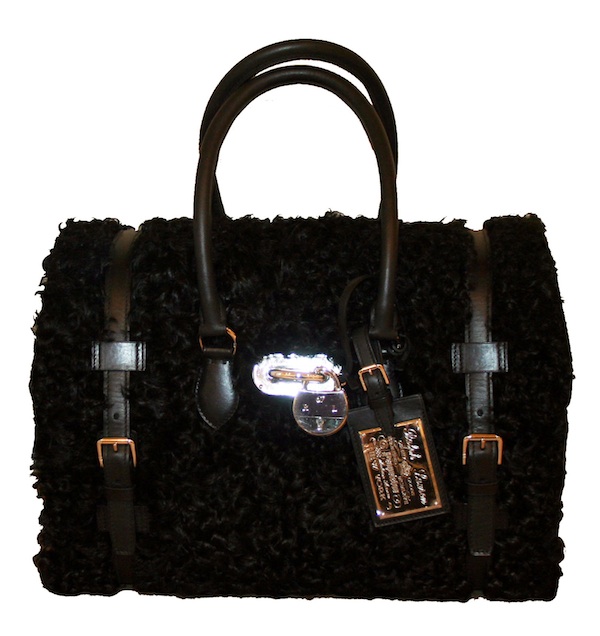 Soft flap clutch in flat panne velvet.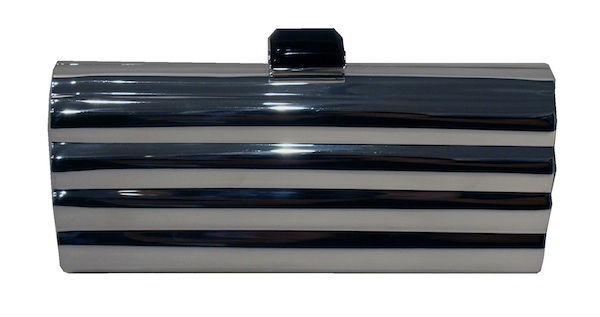 Acrylic box clutch.
Suede Ricky clutch with crocodile strap. Heaven!
This is similar to the bags women in Shanghai carried in the 20s, they always had tiny vials of perfume oils and hand rolled cigarettes. Glam!
We saw so much yesterday and are very grateful for this incredible opportunity. We were given the complete tour of how a Ralph Lauren collection is conceived and designed. From the mood boards that inspire Ralph, the story boards that the collection is built from (they even attach real sheepskin and sequins on the sketches!) to the final finished collection– we have a new found appreciation for the world of Ralph Lauren.
Thank you, Mr. Lauren, for approving our visit and to your amazing PR team– we have no words!