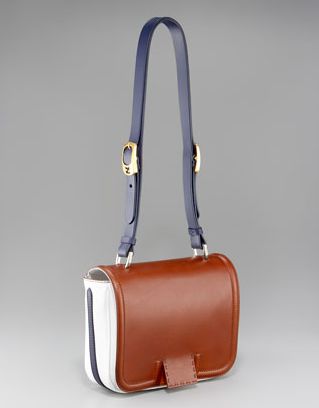 Oh, Fendi! It's been so long since you've shown me anything to make my heart pitter-patter. Now my blood pressure is up again. This bag lent instant impact to the voluminous smock-like dress seen in the Spring show. Models sauntered down the runway with it (one donning a tulip petal-like tangerine dress, to be exact) and I just want to stroll the streets of Florence, "Borsa" in hand. The reason is simple: cross-body is my favorite daily casual style, but this one is also luxe, effortless chic!
The stripe of blue on a white side-body is such a minute detail but one you can't help notice immediately. And it's even more striking in action, as the side of a bag is the first thing people see when you're in motion, whether it's down the runway for Karl or through the cobbled piazzas of Italy. I'd be happy take either walk! At Bergdorf Goodman for $1,680.
Pair with: Take a cue from the full Fendi collection and use color to accentuate the bag's geometry. Derek Lam's draped sheath in fluorescent orange-red is captures the mood of the show. On Shopbop
for $1,350.