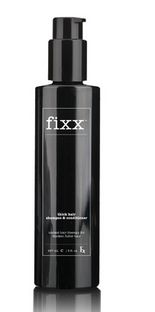 I tend to shy away from Shampoo/Conditioner in-one products – I've been somewhat scared off since a mean battle with a comb and tangled hair left me with a minor bald spot. But Fixx has fixed me of my fear! (Pun intended.) The rich lather of the shampoo plus conditioner rendered my hair soft but not weighed down. Rarely do you come across a shampoo-and-conditioner combo that actually thicker without creating an unsightly fluffy look. Additionally, it's a good shampoo to travel with (one bottle instead of two and a single-step wash). Creator Loren Ridinger knows a girl does not have time to mess around when there's places to go and people to see (even if she has to steal it from her husband!)
Designed to replace mousse and gel, the Volumizing Boost Spray does more than help style your hair. It offers a surprisingly strong hold (I used it before a tv appearance this week and had to walk through a windstorm– not a hair out of place!)- let's just say it's not for the weak of follicle.
Purchase the Shampoo & Conditioner ($16.95) and Volumizing Boost Spray ($15.95) on Market America.