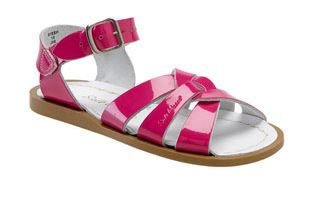 The beach, pool, park, weddings, and Easter Sunday: this is the perfect summer sandal for everything occasion and every item in a tot's closet. A classic style that has been cherished for ages and for good reason, Hoy's sandal is comfortable, in soft leather that won't cut the foot, and secure (no lost shoes for the "Salt-Water" kid!), with a rustproof buckle. Let your tot – baby or big kid, they come in all sizes – take her pick of 10 colors, from cheery yellow to natural brown to pink patent leather. Or go ahead and grab a few pairs. These are wildly practical sandals at a Frugal Snob price.
At Nordstrom for $29.95-$34.95 (depending on size).
Pair with: Like I said, everything! But Isabel Garreton's ruffled cotton sundress is equally appropriate for multiple occasions.
At Saks Fifth Avenue for $90-$98.