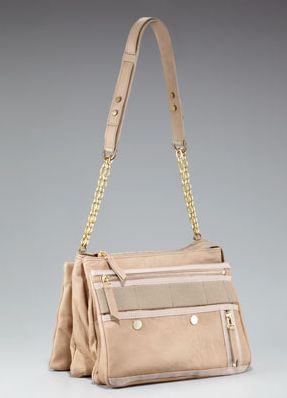 Fascination at first sight and mixed emotions to follow: I saw this rosy-taupe bag at the trunk show and played with it for a solid ten minutes. I love the front panel design, including zippers and canvas accents. There are three compartments, plus a pouch that unzips and separates from the bag – a cool concept, but all that makes the bag super-bulky and awkward – there's a lot going on and is complicated to operate. Although there are great ideas at play here (the pouch is meant to be used as a clutch for evening), it needs to be reworked so that it works. Maybe instead of three sections, the "Dear Danae" could have just two, with one being the pouch that comes off. When a bag requires an instruction video, you know you've got a problem. At Neiman Marcus for $1815.
Pair with: This convertible bag requires a shoe to also take you from day to night. Alexander Wang's "Kasia" heels get it right; with hidden-Velcro closure and platform-free wedges, they are easy and versatile – so you have plenty of time to toy with that bag!
At Kirna Zabête for $550.