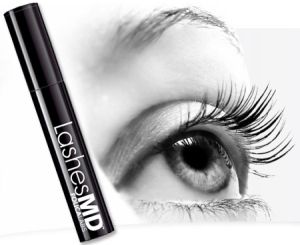 I started using eyelash conditioner Lashes MD a month ago (it was sent to me by their PR) when I ran out of Latisse. I've been a diehard fan of Latisse for a long time, but my eyes are constantly red and irritated. Not as aggressive as the somewhat controversial Latisse – Lashes MD is the first professional grade lash enhancer without a prescription, so it's clearly milder than doctor approval-required Latisse. There are no extreme potential side effects; for example, it won't turn blue eyes brown.
Usually when I stop using Latisse, my lashes become sparse overnight, but this time the deficit was less apparent. Paraben-free and enriched with peptides and natural plant extracts, the results are good (though not as extreme as Latisse's) and the price is $25 a month compared to Latisse's $125. This is a must-try if you've been pining for more voluptuous lashes – and who doesn't? – and you've been too timid to use Latisse.
Visit LashesMD.com or call 800-925-5022 to find where it's available near you.