As the Creative Director of Elle, the personable and accessible Joe Zee has revitalized the magazine and turned it into a fresh, vibrant must-read, thanks to his spot-on sense of style and spirited fashion advice (won't lie, I turn to A-Zee first every month!). A pro in all aspects of the fashion business– the Toronto native moved to New York in 1990 to work at Allure and later as an associate editor at W. He also spearheaded advertising campaigns for snob-worthy labels like Chanel and DKNY. With a personality as large as his following – it's only fitting that he now has his own TV show, "All On the Line", debuting Tuesday, March 29th at 10pm on the Sundance Channel. AOTL gives Joe the opportunity to help struggling designers turn their raw creativity into business success, something he knows a thing or two about. Join AOTL's Facebook page so you won't miss a moment of this new must watch show! ( Don't have Sundance channel? The show will be available on iTunes next week.)
Joe was kind enough to take time out of his jam-packed schedule to share his favorite five essential bags with us. Read on for the top picks from a man every woman should trust:

Chloe Aurore tan leather tote:
Tote bags can look sloppy but this Chloe tote is so chic and will hold its shape when you've thrown everything in there. I love carrying everything with me everywhere (who doesn't?), so this is the perfect solution.
T Anthony wheeled duffle in black and tan: I love the quiet chicness of T Anthony travel cases especially in their classic purple and black or tan and black. I love this wheeled case; it has the refined lines of a day bag but perfect to drag through the airports if you're late for your plane.
Jil Sander plastic bag:
The first time I saw this version of chic plastic grocery bag come down the runway I was so intrigued. What a chic but casual way to carry everything around! Truth be told, I love throwing my stuff into old shopping bags. Now there's the ultimate luxury version.
Fendi fur peekaboo: If fur is your thing, and after seeing all the fur accessories ALL over the runways for fall, then this is the perfect incarnation of it. I love the Fendi peekaboo shape. It's become an instant classic.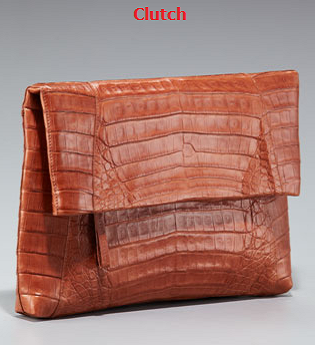 Nancy Gonzalez crocodile clutch: Whenever I style, I always reach for a clutch bag as the ultimate chic detail. And i love more than anything is a daytime clutch. Love the texture and color of this clutch and you can carry it all day or toss it in your day tote and pull it out at night.
Joe's Must Have bags of the season: