I had the good fortune of meeting the inimitable Bobbi Brown over three years ago when I interviewed her. Lucky me: my allotted 30 minutes with the beauty/health/fitness guru became three hours because we couldn't stop talking and laughing! I had been a fan since college – her lipsticks and no makeup-approach to makeup were life-changing – so when I saw that we were actually carrying matching Birkins – I knew it was a sign we'd be BFF (OK so that part was wishful thinking). Bobbi is a true champion of women. She raised three sons (one now at Stanford, thank you very much) while building her global empire. Her devotion to her family is only rivaled by her commitment to charity. Bobbi sits on the board of Dress for Success and is co-chairing this year's gala, celebrating her twenty years with the organization. (Find out how you can help at Dress for Success here).
Since that first "Birkin" moment, I have learned that, like me, Bobbi is the total Bag Snob. Late night e-mails between us discussibg bags are not unusual. So, read on to discover Bobbi's five essential bags. You'll want every one!
Tote
For traveling between home and the office, I use my monogrammed Goyard bag. It's the perfect size — not so big that it's overwhelming, but not so small that all you can fit are the essentials.
Travel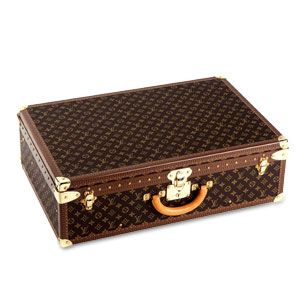 I never leave home without my hard-sided Louis Vuitton Travel Case. It's small enough to take as a carry-on and I always pack my travel essentials, like EXTRA Moisturizing Balm and Concealer, so I look great when I get off the plane.
Treasure
I treasure my Celine bag– everything about it, from its boxy shape to the story behind how I received it. It was a gift from a very good friend of mine, which makes it even more special to me.
Trendy
The Hermes Birkin is one of those bags that is classic, it never goes out of style and will always be an "it bag" in my eyes.
Clutch
My Louis Vuitton Mini Pochette comes with my everywhere. It's the perfect size for my iPhone and a lip gloss.